Thursday, March 1, 2018
  Alumni, Announcements
By Letty Fernandez
EDINBURG, TEXAS – The University of Texas Rio Grande Valley hosted more than 200 middle and high school students at the U.S. Department of Energy Regional Science Bowl, held Feb. 17 on the Edinburg Campus.    
Students representing 24 middle and high schools from across South Texas took part in the fast-paced question-and-answer tournament designed to test their knowledge of biology, chemistry, Earth science, physics, energy and math.
The top winners in each division now advance to the National Science Bowl, to be held April 26-30 in Washington, D.C.
In the high school division, Corpus Christi King High School took first place. This is the third time King High School has won the UTRGV Regional Science Bowl.
Representing King High School were Aiden Alanmanou, freshmen; Christopher Fan, senior; Christopher Heatherly, junior; William Nacci senior; and team caption Darren Rodrigues, senior.
Winning the middle school division was Marvin Baker Middle School, also from Corpus Christi. Team members were Nathan Alanmanou, Alex Borkowski, Abby Fields, Evan Hsiang and Lipika Mallick.
Both teams currently are preparing for the National Science Bowl in April in Washington, D.C., including brothers Nathan and Aidan Alanmanou.
"Science is not the easiest subject to learn, but when done with my brother, Aidan, and my friends, it can be a lot of fun," Nathan Alanmanou said.
Schools in the Rio Grande Valley also earned awards. Placing second in the high school division was Edinburg North High School – Team 1. And in third place was Science Preparatory Academy – Team 1.
In the middle school division, Mission Junior High School – Team 1 earned second-place honors, and South Texas Preparation Academy – Team 1 took third place.
"The Science Bowl is a program that brings students together to engage in science and math activities, which further enhances their skills in this very important content area. We are pleased with the competition turnout and wish our advancing teams well in Washington, D.C.," said Karen Dorado, director of special programs, UTRGV Office of Community Relations.
The Regional Science Bowl was one of three events held in February and organized by the Office of Community Relations. Regional Science Bowl, MathCounts and Rio Grande Valley Regional Science and Engineering Fair are geared toward encouraging students to pursue careers in STEM – science, technology engineering and mathematics. The three events brought more than 1,500 students and hundreds of volunteers to UTRGV.
For more information about the National Science Bowl, visit online at https://science.energy.gov/wdts/nsb/.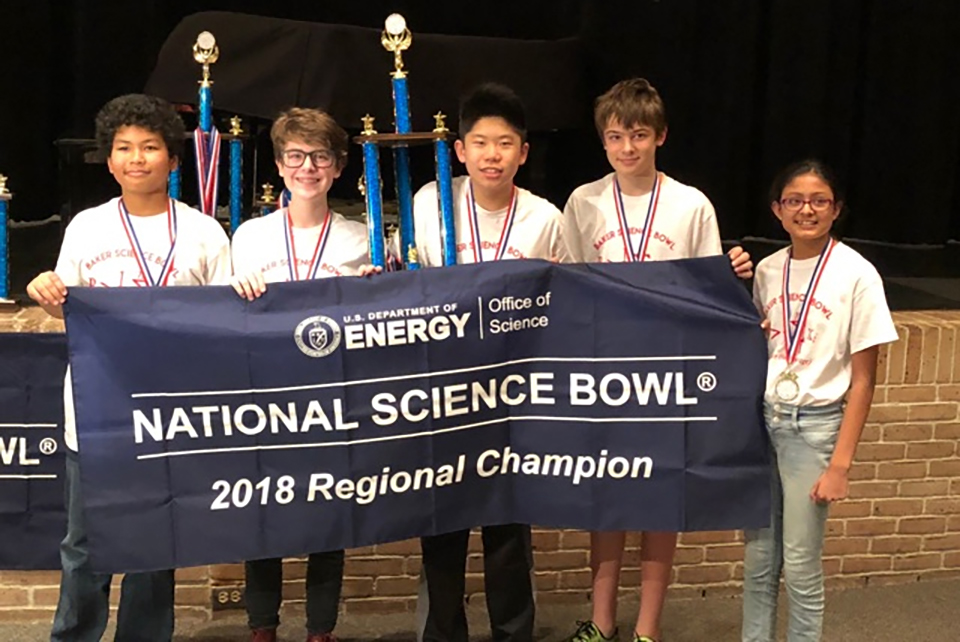 ABOUT UTRGV
The University of Texas Rio Grande Valley (UTRGV) was created by the Texas Legislature in 2013 as the first major public university of the 21st century in Texas. This transformative initiative provided the opportunity to expand educational opportunities in the Rio Grande Valley, including a new School of Medicine, and made it possible for residents of the region to benefit from the Permanent University Fund – a public endowment contributing support to the University of Texas System and other institutions.
UTRGV has campuses and off-campus research and teaching sites throughout the Rio Grande Valley including in Boca Chica Beach, Brownsville (formerly The University of Texas at Brownsville campus), Edinburg (formerly The University of Texas-Pan American campus), Harlingen, McAllen, Port Isabel, Rio Grande City, and South Padre Island. UTRGV, a comprehensive academic institution, enrolled its first class in the fall of 2015, and the School of Medicine welcomed its first class in the summer of 2016.