Thursday, March 1, 2018
  Announcements, Alumni
By -
  PHOTO GALLERY  by David Pike
Password: reading (case sensitive)
RIO GRANDE VALLEY, TEXAS – Students at Brownsville Independent School District's Morningside Elementary heard about the epic battle between the Donkey Lady and   La Llorona  from author Xavier Garza, who visited the campus as part of the Reading Rock Stars program during UTRGV's FESTIBA, the Festival of International Books and Art.
The UTRGV legacy alum, who is the author of "The Donkey Lady Fights La Llorona and Other Stories," was one of three authors promoting literacy at the school as part of Reading Rock Stars. Through the program, the Texas Book Festival sent authors to Morningside Elementary and four other Rio Grande Valley elementary schools including Mission and Edinburg.
Morningside Elementary School Principal Jose Martinez said, "The students enjoy it so much, because they get to meet the authors, and they get to hear about what it takes to write a book. And so they're very excited about that."
Students asked the authors about when they started writing, what inspired them and where they got their character names. "'Are you rich in famous?' That one's a popular question," said award-winning writer Rene Colato Lainez, author of "I am René the Boy/ Soy René el niño," with a laugh.
Ana Aranda, the illustrator of "The Chupacabra Ate the Candelabra," shared some of the messy process involved in her work, including using a tennis racket as a paintbrush. "You paint and you dance, and you put music on and it's a lot of fun," she said.
At the end of each of the author presentation, students received autographed copies of their books.
"It's really great to promote literature… to give the message of hope, especially to Latino children," said Lainez. "My books are about Latino children, so they can see themselves in books."
Garza said, "Hopefully, it'll inspire them to write. It'll inspire them to read. And through that, hopefully, they might become writers themselves one day."
The Reading Rock Stars author book visits continue Friday, March 2 at several Mid-Valley elementary schools. The program's main goal is to offer an engaging literacy program in which authors from across the country are invited to present their works to students in economically disadvantaged public schools.
ABOUT FESTIBA
FESTIBA was created in 2006 to promote literacy and to foster a culture that appreciates and celebrates the cultural arts. View more information about FESTIBA on this page.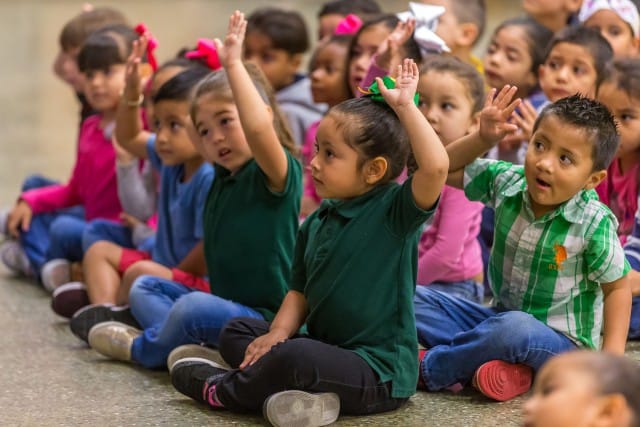 ABOUT UTRGV
The University of Texas Rio Grande Valley (UTRGV) was created by the Texas Legislature in 2013 as the first major public university of the 21st century in Texas. This transformative initiative provided the opportunity to expand educational opportunities in the Rio Grande Valley, including a new School of Medicine, and made it possible for residents of the region to benefit from the Permanent University Fund – a public endowment contributing support to the University of Texas System and other institutions.
UTRGV has campuses and off-campus research and teaching sites throughout the Rio Grande Valley including in Boca Chica Beach, Brownsville (formerly The University of Texas at Brownsville campus), Edinburg (formerly The University of Texas-Pan American campus), Harlingen, McAllen, Port Isabel, Rio Grande City, and South Padre Island. UTRGV, a comprehensive academic institution, enrolled its first class in the fall of 2015, and the School of Medicine welcomed its first class in the summer of 2016.