Wednesday, February 21, 2018
  Awards and Recognitions
By Maria Elena Hernandez
Rio Grande Valley, Texas – For the first time, a guitar ensemble will be included as part of the National Association for Music Education's All-National Honor Ensembles – and a University of Texas Rio Grande Valley professor will wield the baton.
"It's unprecedented, first of all for guitar ensembles," said Dr. Michael Quantz, the UTRGV music professor who will lead the annual inaugural 2018 All-National Guitar Ensemble performance in November in Orlando, Florida. "I have been blown away to be asked to be the first-ever conductor."
Sixty high school guitarists will be selected for the guitar ensemble. Musicians usually must compete at the state level to be eligible for the NAfME concerts. However, unlike the other groups performing, not all states have an all-state guitar ensemble, so any student who is part of their school guitar ensemble can apply.
Quantz said the decision to include a guitar ensemble in the All-National Honor Ensemble – while some states still lack an all-state guitar ensemble – an arrival point.
"Finally, it's all legit," he said. "To convene this on a national level is absolutely the right thing to do at this point, because now it's a real thing on a national scale. And to be part of that inaugural event is a little scary."
He credits his selection as conductor to his students.
"I think it's a direct result of the accomplishments that the students have achieved," he said, as he eagerly listed the students' awards and honors.
He also said support from faculty and the community has allowed students "to do things no other guitar programs have ever accomplished."
"And so they've made me look really good," Quantz said.
The UTRGV music professor is still learning about the guitar ensemble he'll conduct in Orlando in the fall. Auditions are open until May 4, and while there is advanced preparation, the selected musicians won't get a chance to rehearse together until the day before the concert.
"With these types of events … you drill your brains out for about a day and a half, and then you make a presentation," Quantz said, "so there's a lot of sussing out to do."
He said he's excited about the opportunity, and that the honor ensemble will recognize guitar students, their work and the art of music.
"It's a milestone for everybody who studies guitar and everybody who teaches guitar as a for-credit thing in music education," he said.
"It is just a wonderful honor to be invited."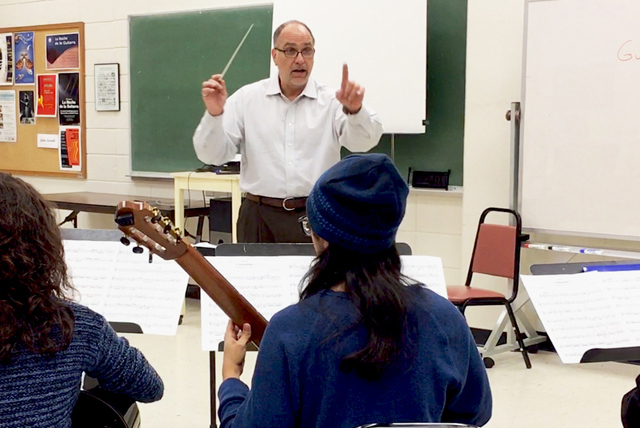 ABOUT UTRGV
The University of Texas Rio Grande Valley (UTRGV) was created by the Texas Legislature in 2013 as the first major public university of the 21st century in Texas. This transformative initiative provided the opportunity to expand educational opportunities in the Rio Grande Valley, including a new School of Medicine, and made it possible for residents of the region to benefit from the Permanent University Fund – a public endowment contributing support to the University of Texas System and other institutions.
UTRGV has campuses and off-campus research and teaching sites throughout the Rio Grande Valley including in Boca Chica Beach, Brownsville (formerly The University of Texas at Brownsville campus), Edinburg (formerly The University of Texas-Pan American campus), Harlingen, McAllen, Port Isabel, Rio Grande City, and South Padre Island. UTRGV, a comprehensive academic institution, enrolled its first class in the fall of 2015, and the School of Medicine welcomed its first class in the summer of 2016.