Author Alejandro Zambra to present at UTRGV's Big Read 2018

  Friday, February 16, 2018
  Community, Around Campus
By Marci Caltabiano-Ponce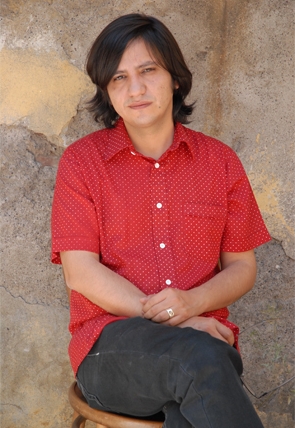 Rio Grande Valley, Texas – The University of Texas Rio Grande Valley has received a $14,000 grant to host the NEA Big Read.
An initiative of the National Endowment for the Arts in partnership with Arts Midwest, the NEA Big Read broadens our understanding of the world, our communities and ourselves through the joy of sharing a good book.
UTRGV is one of 75 nonprofit organizations to receive an NEA Big Read grant to host a community reading program between September 2017 and June 2018. The UTRGV NEA Big Read will focus on "Ways of Going Home" by Alejandro Zambra. The kick-off will be at 10 a.m. Feb. 26, in the UTRGV Performing Arts Center on the Edinburg Campus. Additionally, there will be Big Read special events throughout the month of March and into mid-April.
Professor Steven Schneider, principal investigator of the grant, said the program allows us to promote reading and literacy through a variety of exciting programs on campus and across the Rio Grande Valley.
"This is our fifth NEA Big Read grant," he said, "and this year we are hosting award-winning Chilean author Alejandro Zambra, who will be featured at the Big Read keynote event during FESTIBA."
Zambra will be presenting at noon March 1, in the UTRGV Library on the Edinburg Campus.
UTRGV also is sponsoring 20 community book discussion groups, and two film showings – "The Battle of Chile," 6 p.m. March 6, and "Neruda" at 6 p.m. April 4. Both showings will be at the Dustin M. Sekula Memorial Library, 1906 S. Closner Blvd. in Edinburg.
All the events are free and open to the community.
"Through the NEA Big Read, we are bringing contemporary works to communities across the country, helping us better understand the diverse voices and perspectives that come with it," said NEA Chair Jane Chu. "These 75 organizations have developed unique plans to celebrate these works, including numerous opportunities for exploration and conversation."
The NEA Big Read showcases a diverse range of contemporary titles that reflect many different voices and perspectives, aiming to inspire conversation and discovery. The main feature of the initiative is the grants program, which annually supports some 75 dynamic community reading programs, each designed around a single NEA Big Read selection.
The UTRGV Big Read is supported by two community partners – the Dustin M. Sekula Memorial Library under the direction of Letty Leija, and the South Texas Literacy Coalition, whose executive director is Dr. Ida Acuna.
EVENT CONTACT
For more information, contact Dr. Steven Schneider at steven.schneider@utrgv.edu or (956) 665-8775.
ABOUT THE BIG READ PROGRAM
Since 2006, the National Endowment for the Arts has funded more than 1,400 NEA Big Read programs, providing more than $19 million in grants to organizations nationwide. Big Read activities have reached every congressional district in the country, and over the past 11 years, grantees have leveraged more than $42 million in local funding to support their NEA Big Read programs. More than 4.8 million Americans have attended an NEA Big Read event; approximately 79,000 volunteers have participated at the local level; and 37,000 community organizations have partnered to make NEA Big Read activities possible. Last summer, the NEA announced a new focus for the NEA Big Read Library on contemporary authors and books written since the NEA was founded 50 years ago. For more information about the NEA Big Read, please visit https://www.artsmidwest.org/programs/neabigread and http://www.artsmidwest.org/programs/neabigread. 
ABOUT THE NEA 
Established by Congress in 1965, the National Endowment for the Arts is an independent federal agency whose funding and support gives Americans the opportunity to participate in the arts, exercise their imaginations and develop their creative capacities. Through partnerships with state arts agencies, local leaders, other federal agencies and the philanthropic sector, the NEA supports arts learning, affirms and celebrates America's rich and diverse cultural heritage, and extends its work to promote equal access to the arts in every community across America. Visit arts.gov to learn more about NEA. 
ABOUT ARTS MIDWEST 
Arts Midwest promotes creativity, nurtures cultural leadership and engages people in meaningful arts experiences, bringing vitality to Midwest communities and enriching people's lives. Based in Minneapolis, Arts Midwest connects the arts to audiences throughout the nine-state region of Illinois, Indiana, Iowa, Michigan, Minnesota, North Dakota, Ohio, South Dakota, and Wisconsin. One of six non-profit regional arts organizations in the United States, Arts Midwest's history spans more than 25 years. For more information, please visit artsmidwest.org.
ABOUT UTRGV
The University of Texas Rio Grande Valley (UTRGV) was created by the Texas Legislature in 2013 as the first major public university of the 21st century in Texas. This transformative initiative provided the opportunity to expand educational opportunities in the Rio Grande Valley, including a new School of Medicine, and made it possible for residents of the region to benefit from the Permanent University Fund – a public endowment contributing support to the University of Texas System and other institutions.
UTRGV has campuses and off-campus research and teaching sites throughout the Rio Grande Valley including in Boca Chica Beach, Brownsville (formerly The University of Texas at Brownsville campus), Edinburg (formerly The University of Texas-Pan American campus), Harlingen, McAllen, Port Isabel, Rio Grande City, and South Padre Island. UTRGV, a comprehensive academic institution, enrolled its first class in the fall of 2015, and the School of Medicine welcomed its first class in the summer of 2016.