Thursday, February 15, 2018
  Around Campus, Alumni, Community
By Maria Elena Hernandez
Rio Grande Valley, Texas – A familiar voice soon will hit the airwaves of KMBH 88FM, the Rio Grande Valley's National Public Radio station.
Dr. Juliet V. Garcia, a communications professor at The University of Texas Rio Grande Valley and former president of UTB-TSC, is collaborating with UTRGV communications professor Dr. William Strong on a new weekly program. Garcia and Strong plan to alternate weeks.
"The new show that I'm doing is going to be called Next Gen, or next generation, and it's meant to highlight the next generation of leaders in our community – student leaders, faculty leaders, people in the broader community – who have decided to make a difference with their lives in our world," Garcia said.
She recorded her inaugural interview with UTRGV legacy alum Stephanie Vega, with whom she reconnected three years ago.
"She started to tell me this magnificent story of the research she was involved with in regenerative medicine," Garcia said.
"Sometimes, the good stories get lost in the news and we hear only about the problems that are occurring or the needs that haven't been met yet," she said. "But a lot of needs are being met by our students, by our faculty, by our staff, every day, and stories like Stephanie's are actually more common than we realize. Every student who comes to us has a story."
Garcia said she hopes faculty and staff who know the stories of UTRGV students and alumni will provide suggestions for future interviews. Work on the radio program is still underway.
"We're trying to select the music so that people – when they hear the music - will know, 'I need to tune in. This is going to be a good story,'" she said.
The timeslot for the show has not been finalized yet, but the program is expected to start broadcasting in a few weeks.
You can find the 88FM schedule at 88fm.org/schedule.
Listen below to the latest episode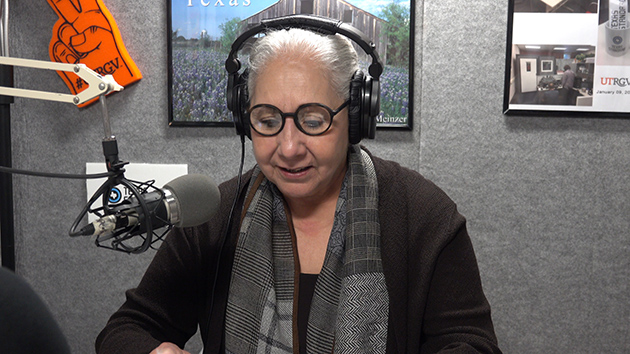 ABOUT UTRGV
The University of Texas Rio Grande Valley (UTRGV) was created by the Texas Legislature in 2013 as the first major public university of the 21st century in Texas. This transformative initiative provided the opportunity to expand educational opportunities in the Rio Grande Valley, including a new School of Medicine, and made it possible for residents of the region to benefit from the Permanent University Fund – a public endowment contributing support to the University of Texas System and other institutions.
UTRGV has campuses and off-campus research and teaching sites throughout the Rio Grande Valley including in Boca Chica Beach, Brownsville (formerly The University of Texas at Brownsville campus), Edinburg (formerly The University of Texas-Pan American campus), Harlingen, McAllen, Port Isabel, Rio Grande City, and South Padre Island. UTRGV, a comprehensive academic institution, enrolled its first class in the fall of 2015, and the School of Medicine welcomed its first class in the summer of 2016.