It's not just for Valentine's Day

  Tuesday, February 13, 2018
  Around Campus
By Maria Elena Hernandez
Rio Grande Valley, Texas – Chefs de cuisine the world over experiment with it. Sweet or savory? Salt or cinnamon? Dessert or main course?
The topic is chocolate, of course. It is the subject of movies. The ultimate gift for Valentine's Day. And a quick endorphin pick-me-up when the going gets tough.
The fascination is ancient and global, and two professors from The University of Texas Rio Grande Valley were intrigued enough by it to do some research.
Dr. Russell Skowronek, an anthropology and history professor, and Dr. Margaret Graham, an anthropology professor, found records of artifacts specifically associated with the making of chocolate, and wrote a paper called "Chocolate on the Borderlands in New Spain."
On a recent day, the professors sat with a world map spread out before them, carefully placing Valentine's Day candy on it to mark parts of the world involved in the evolution of chocolate.
They plopped a red Hershey's Kiss on Mesoamerica to mark chocolate, a pink Hershey's Kiss to indicate cinnamon from Southeast Asia, and silver Hershey's Kisses on India and Africa to represent sugar.
"And then, if you want to put milk in it – some people don't like that, that's obviously a northern European thing," Skowronek said. "But you mix it all together and that's what people are consuming today. It was truly the first international beverage as we think of it today."
Some of the artifacts found originally had been misidentified. For example, a molinillo – a wooden stirrer for chocolate drinks – was recovered in the Philippines from a Spanish shipwreck in the 1600s, but was mistaken for a bedpost.
"Well, I guess I can see the resemblance between it," Skowronek said with a smile.
Graham said the important role chocolate played led them to review artifacts in a new light.
"Historic archaeology is oriented toward the English experience here the Americas. And the Spanish experience gets a little bit less attention," she said, adding that cups for drinking chocolate may have been mistaken for teacups.
While their work focused on chocolate as part of the Spanish mission diet, Skowronek said, colleagues found chocolate was exported from the lowland areas of Mesoamerica to what is now the American Southwest.
"This was an important commodity long before anyone speaking Spanish arrived in the Americas," he said.
Not the sweet treat it is today, chocolate was used as a stimulant and medicinal item.
"No one was thinking of it from the pleasure of having a cup of chocolate in the 16th century," Skowronek said.
However, that would change with the addition of sugar.
"That made it so widely distributed and made it something that was palatable, really," Graham said.
At first, chocolate was only for the elite in society. That, too, soon changed.
"By the late 17th century, 18th century, everybody has access to chocolate," Skowronek said. "Long before anybody talked about there being coffee shops or tea shops, there was chocolate."
Graham said it's interesting to look at today's commonplace item – "things that we wouldn't even think two seconds about – a piece of chocolate – and realize just how important it has been all these years, and all these historic moments that brought it to our table right now."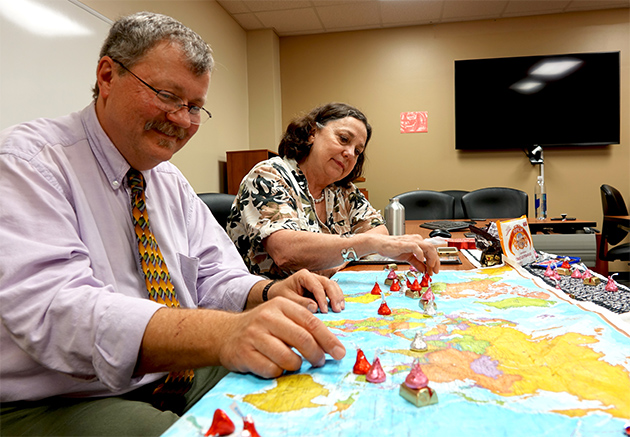 ABOUT UTRGV
The University of Texas Rio Grande Valley (UTRGV) was created by the Texas Legislature in 2013 as the first major public university of the 21st century in Texas. This transformative initiative provided the opportunity to expand educational opportunities in the Rio Grande Valley, including a new School of Medicine, and made it possible for residents of the region to benefit from the Permanent University Fund – a public endowment contributing support to the University of Texas System and other institutions.
UTRGV has campuses and off-campus research and teaching sites throughout the Rio Grande Valley including in Boca Chica Beach, Brownsville (formerly The University of Texas at Brownsville campus), Edinburg (formerly The University of Texas-Pan American campus), Harlingen, McAllen, Port Isabel, Rio Grande City, and South Padre Island. UTRGV, a comprehensive academic institution, enrolled its first class in the fall of 2015, and the School of Medicine welcomed its first class in the summer of 2016.