Sub Menu Toggle
Students experience Pacific Rim business with Project Management in Asia course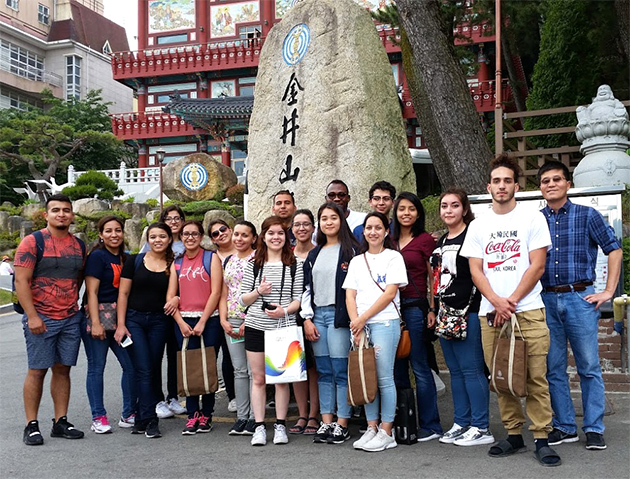 Eighteen students from The University of Texas Rio Grande Valley visited the Gwang Myung Sa Buddhist Temple near Pusan National University, one of the universities that hosted the group, in Seoul, South Korea. The students traveled this summer with Dr. Joo Jung (far right), professor of management in the Robert C. Vackar College of Business and Entrepreneurship, on a study abroad business management course that visited South Korea and Japan. (Courtesy Photo)
By Cheryl Taylor
RIO GRANDE VALLEY, TEXAS – JUNE 15, 2017 – Roma native Jessica Serna said a study abroad course – Project Management in Asia – was a challenge in that it took her out of her comfort zone.
Serna and 17 other UTRGV students traveled with Dr. Joo Jung, professor of management in the Robert C. Vackar College of Business and Entrepreneurship, on a study abroad minimester in South Korea that was topped off with a few days in Japan.
"Among other things, this trip helped me see that I can navigate a foreign country where the primary languages are not English or Spanish – and now I'm eager to travel more, with Hong Kong and Bangkok high on my list," said Serna, a graduate student working on her Master of Public Administration.
Throughout the trip, students were learning about fundamental project management methodologies while working on their course projects – developing business plans for products in the conceptual design stage.
Jung said the students became familiar with the stages of product development, and the groups came up with some good ideas about how to advance the current product designs. Those products include a stainless-steel window/door screen for security; a wall-mounted, donut- shaped washing machine; a credit card-shaped sample dispenser; a custom-fit shirt sleeve; and an artificial medical leech.
Some of the students plan to continue working on the projects now that they are back home in the Valley.
The students visited three South Korean companies – Sung Gwang, KT&G and KONEC, and presented their business plans at Sung Gwang and KONEC.
Jennifer Tirado, who considers herself half Californian and half Texan, said meeting the CEO of KONEC was a special opportunity.
"We appreciated being able to talk to him, and others in the company, about our product ideas," she said. "It exposed us to the real world, giving us perspective on how they manage their business. Everyone was very polite and punctual."
NEW SIGHTS, NEW SOUNDS
"As with any study abroad course, familiarization with the host country is a critical component of the course objectives," Jung said. "I wanted the students to experience the cultures of South Korea and Japan and, while participating in the course requirements, draw comparisons between the United States and those two countries."
Not only business majors participated in the trip.
Bilingual education senior Rubi Valdez, from Edinburg, said she benefitted by learning about other cultures and seeing the business profession up close. She felt the experience broadened her global awareness and gave her a foundation to promote cultural diversity when she enters her own classroom.
"This trip allowed me to overcome my fear of travelling to unfamiliar locations," Valdez said. "And something else: By witnessing other places, I can really appreciate what I have. Taking this class, this trip, was the best decision I could have made."
Blanca Ozuna, a senior art education major from Citrus City, was thrilled to visit places she had seen in animes.
"I've always been into the K-Pop culture and the Japanese culture, so to be able to visit these places was a dream come true," Ozuna said. "And since this was a management class, I was able to get a glimpse into international business."
Among the sights of interest the students visited in Seoul were the Samsung Exhibition Center, Itaewon district, Bongeunsa Temple, and Lotte Adventure World, a large indoor amusement venue.
Serna and a few others used some free time to visit Buckchon Hanok Village, a popular destination for foreign as well as South Korean tourists, consisting of traditional-style Korean houses that date back to the Joseon Dynasty (1392 to 1897).
"I felt immersed in history at Buckchon Hanok Village, one my favorite places," Serna said. "It was absolutely enchanting, walking among the old buildings."
CUISINE AND CONSCIOUSNESS
Enjoying the local cuisine was a highlight for M.B.A. graduate student Massiel "Massy" Muñoz from Lewisville.
"I am fascinated by how common ingredients can be paired or combined to produce different culinary results," Muñoz said. "I did not allow myself to eat western foods while I was abroad – it was great!"
Muñoz also took note of both the South Korean and Japanese populations' apparent consciousness of environmentalism.
"They appeared to be generating very little waste, with small waste baskets, limited napkins at restaurants, and recycling containers everywhere!" she said. "Also, I noticed PSA signs for energy conservation and ways to contribute to a cleaner earth through ecofriendly and smart utilities features, for example."
All the students commented on the friendly disposition of the people and their willingness to assist with directions or help in any way.
"We carried maps everywhere we went," Muñoz said. "From time to time we would stand on the sidewalk with our maps fully open, trying to stay out of the way, attempting to figure out which way to go next. It was not unusual for a friendly stranger to approach us and ask if they could be of assistance, and through hand gestures and short English phrases, locals would kindly get us on the correct path. These were very genuine and welcoming interactions."
THE BULLET AND THE BEETLE
After touring the KT&G plant at Daejeon city, riding on the bullet train from Daejeon to Busan was another first for most of the students.
In Busan, the group was hosted by Pukyong National University and Pusan National University.
Saying goodbye to South Korea, students boarded the popular Beetle Hydrofoil ferry for the three-hour ride to Fukuoka, Japan, on the island of Kyushu.
"Although our time in Japan was short, we accomplished quite a lot, including a visit to Kyushu University and the Fukuoka Museum," Jung said. "Also, we made an excursion to the Nanzoin Temple in Sasaguri – about a 40-minute train ride outside the city center – to see the famous reclining Buddha."
On the last day, two students boarded their flight to return home, while four students returned to South Korea and 11 flew to Tokyo for several more days of sightseeing.
Among the group venturing to Tokyo was Taiwo Abraham, a business graduate student from Abuja, Nigeria. With eight years in project management consulting under his belt, and more widely traveled than most of the other students on the trip, he had high praise for the experience.
"This trip delivered the kind of global immersion experience I desired when I left my job and family in Nigeria to pursue a full-time M.B.A. in the United States," Abraham said. "Beyond gleaning the perspectives to project and business management from the giant Asian economies we visited, the trip was my best experience in a very long time, one I am not likely to forget soon."
The students who participated in the South Korea/Japan (MGMT 4300, MGMT 6332) summer study abroad were:
Taiwo Abraham, MBA
Daniela De La Cruz, accounting
Glenda Delgado, business management
Ashley Garza-Canales, international business
Lizbeth Gutierrez, management
Jimmie Limón, accounting
Wuilber Lopez, business administration
Denise Martinez, management
Cruz Matos, MPA
Luis Muñoz
Massiel Muñoz, MBA
Adriana Ovalle, marketing
Blanca Ozuna, art
Juan Perez, marketing
Maria Prado, business administration
Jessica Serna, public affairs
Jennifer Tirado, management
Rubi Valdez, interdisciplinary studies
For more information about study abroad, contact International Programs and Partnerships in the Office of Global Engagement at (956) 665-3572 or ipp@utrgv.edu.
MEDIA CONTACTS

Cheryl.Taylor@UTRGV.edu
UTRGV Senior Writer / 956-882-8787 
Marci.Caltabiano@UTRGV.edu
UTRGV Director of News and Internal Communications / 956-665-2742