Sub Menu Toggle
Laney Lopez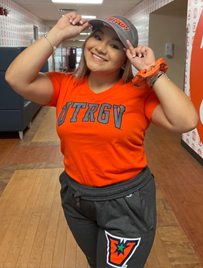 Name: Laney Lopez
Age: 21
Major: Dance
College: College of Fine Arts
Hometown: Pharr, TX
High School: PSJA North Early College High School, Pharr, TX 
Why UTRGV?
The reason why I chose UTRGV was because it shares the culture that I was raised in and is one of the top 10 universities in Texas. While deciding where to attend, I remembered my mom and cousin both graduated from our legacy institution UTPA back in 2014. It was in my best interest to stay close to home and share the same experiences as my family. UTRGV offers affordable tuition, multiple scholarships and great opportunities that benefit me in my career path.
What made you decide on your current major?
At the age of 12, I started dancing in middle school in an after-school program for fun. After my first big performance, I fell in love with the excitement and butterflies in my stomach. From that day on, I immediately knew that dance was my passion. Dance allowed me to express my emotions and grow as an individual. Throughout my dance career, I've had great mentors and coaches who pushed me to never give up. They became my biggest role models and inspired me to decide on my major. I don't know what I would've done without dance.
How are you maneuvering being a student during the COVID-19 pandemic?
During the pandemic, it was very difficult transitioning from dancing in-person to online. The lack of space at home made it very challenging to learn ballet, modern, and flamenco dance, and not receiving the correct critiques from my professors as I would face-to-face was hard. COVID-19 restricted my peers and I from yearly recitals, competitions, game day performances and dance scholarships. However, the staff and professors at UTRGV have helped make the transition smoother and provided more financial support during these unpredicted times. 
What are your greatest strengths and what are some challenges? 
I believe my greatest strengths have been my ability to stay positive, mentally, and physically healthy and to be open-minded with others. My whole perspective changed for the better to overcome any challenges I face. I am determined to start what I finish and to never give up on my goals. A challenge I'm dealing with during this pandemic is balancing school, work and social life. Every day I seek for improvement and know that in the end, it'll be all worth it. 
What do you hope to achieve beyond completion of your major?
One day, I hope to become a dance director for a high school and share my knowledge for dance to students. Through personal experiences, I want to be able to impart those lesson in my teaching and choreography. Being able to be there for my students when achieving long-term goals brings me joy and pure awesomeness. Teaching dance is full of these addictive moments that I will cherish in life.
What do you like most about UTRGV?
Something I love the most about UTRGV are the opportunities that were offered to me, such as work study and being a part of the UTRGV Spirit Program. As a mentor for the department of Mathematics and Science Academy, I learned how to help high school students to apply for FAFSA, scholarships and applications for other universities. All my supervisors at MSA have been so understanding with school and want to see us succeed, and that shows with the work environment they create for us.  As a three-year member of the UTRGV spirit program, I have the privilege to continue my passion by dancing at volleyball and basketball games. The UTRGV Spirit Program has given me the chance to serve my community and to keep growing as a dancer even after high school.
What does being a Vaquero mean to you?
Being a Vaquero means having pride in my school, culture, family, and community. Being a Vaquero means to help others when you can and creating a safe environment where everyone feels welcome at UTRGV.

What opportunities has UTRGV helped you find throughout your community?
During election year, UTRGV gave me the opportunity to vote at school to ensure our voices matter and showed us how important it is to make a difference in society. UTRGV also allowed me to receive the COVID-19 vaccination at school for our safety and health. Both opportunities taught me that making a change starts with you, and how you see yourself in the future.
What advice do you have for fellow students pursuing degrees during the COVID-19 pandemic?
Keep pushing. Don't give up. You are not alone; we are going through this together. Stay positive and don't hesitate to reach out!