Sub Menu Toggle
Cecilia Sierra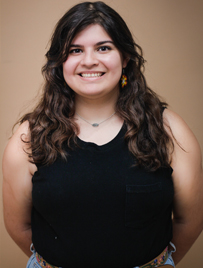 Name: Cecilia Sierra
Age: 24
Major: Bachelor of Fine Arts
College: College of Fine Arts
Hometown: Brownsville, Texas
High School: James Pace Early College High School 
Why UTRGV?
Because as a senior in high school, despite being in Brownsville, UTRGV looked as though it could provide me with a good standing education. This and the added bonuses of being close to home and its affordable options, not to mention my culture surrounding the school, which helped me develop a deeper appreciation of its beauty.
What made you decide on your current major?
I've always created art for as long as I can remember, when registering for college I felt overwhelmed with all the opportunistic options available. I decided to stay true to myself and follow my passion. I felt like my talent and skill would pull me through, and surely it has done more than just that with the help of UTRGV and its professors.
What do you hope to achieve beyond completion of your major?
I don't hope but know that with the completion of my major I can help my community through my art, and not to mention continue my education (master's degree) to further foster my skills and appreciation for art. 
What do you like most about UTRGV?
In all honesty, the people who have made some of the most impact in my life have been my professors. Not only did they help me learn what I came to do, but they gave me opportunities to use my art beyond myself and as a career, to not only help my community but inspire other artists both young and old. They have helped me expand my art beyond the borders of the Valley and meet people with more experience and wisdom to continue my growth as a creative individual.

What does being a Vaquero mean to you?
Being a Vaquero means that I am a part of the community that I can call family, UTRGV has helped me appreciate and become a part of my community.

What opportunities has UTRGV helped you find throughout your community?
It has helped me find valuable friendships with people who have helped me grow and given me motivation and determination to do more with my art. It has given me a podium to apply and offer my skills to make murals and posters to promote local businesses and events that help shape our community and keep our culture alive. Not only this, but my minor in marketing has given me an opportunity to start my own business with the knowledge and wisdom shared to me through the exceptional professors I have had throughout my college career.
What advice do you have for fellow students pursuing their degrees?
My advice for fellow students is that it depends on you at the end of the day how far you want to go with your career and goals, especially in the creative field it's important to push oneself to continue growing.