Sub Menu Toggle
Anthony Arredondo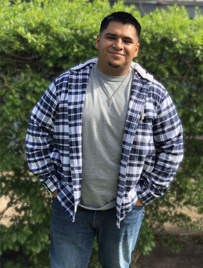 Name: Anthony Arredondo
Age: 22
Major: Biology
College: College of Sciences
Hometown: Pharr, TX
High School: PSJA Southwest Early College High School, Pharr, TX 
Why UTRGV?
UTRGV has a high percentage of Hispanic students which I am proud to be a part of. Our culture revolves around diversity, culture, family, and special traditions. UTRGV has all these special qualities and made it my home away from home. The campus itself gives off a sense of belonging which helps me express myself in a unique way.
What made you decide on your current major?
At a young age, science always fascinated me. I loved how things would come to life and I would take it upon myself to explore more. One thing that I hold dearly to my heart is the ocean. The ocean is what you call "my escape zone."
How are you maneuvering being a student during the COVID-19 pandemic?
Ever since COVID-19 made its way into the United States it has made me appreciate the little things in life. At first, I got to admit I was okay with the fact that classes were virtual. About two months in is when I missed the social interaction I would have whenever I would attend a new class at UTRGV. 
What are your greatest strengths and what are some challenges? 
My greatest strength is not letting something negative ruin my day. During my lifetime I have been through tough times and instead of letting that conquer me I try to make the best of it.
What do you hope to achieve beyond completion of your major?
I hope to change how the human eye sees nature. Many people take for granted that nature is what makes our earth livable. Without the sun our human race will not be in existence now and many people fail to see that. 
What do you like most about UTRGV?
The student body and professors. The professors are always available when one seeks help, and they always provide opportunities to work alongside them. The student body has been awesome at UTRGV, I have made several new friends and together we have made memories across campus.

What does being a Vaquero mean to you?
Being a Vaquero is being proud of where our culture comes from. The Hispanic race is predominant down here and having a mascot that represent our values truly means a lot.

What opportunities has UTRGV helped you find throughout your community?
UTRGV has helped me become a collegiate mentor and currently I am assisting with applications for financial aid in Progreso High School. I have been here for two years, and I have grown to love this small community filled with big dreamers.
What advice do you have for fellow students pursuing degrees during the COVID-19 pandemic?
"Education is the passport to the future, for tomorrow belongs to those who prepare for it today."- Malcolm X