Sub Menu Toggle
Anaeli Villarreal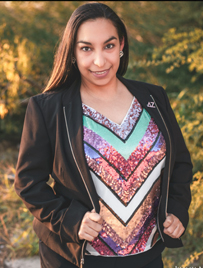 Name: Anaeli Villarreal
Age: 26
Major: Art Education
College: College of Fine Arts
Hometown: La Victoria, Rio Grande City, TX
High School: Grulla High School, Rio Grande City, TX 
Why UTRGV?
My decision for enrolling in UTRGV made it flexible for work and my academic growth. The faculty and staff always make a difference in the Valley and in Texas, as well, by increasing students' knowledge and preparing them for life lessons along the way. UTRGV is a place where a student's vision can write the next chapter of their life. As our journey began with a simple crayon or an alphabet through it, we began to modify our intellectual level to a successful career in our future.                                            
What made you decide on your current major?
Two educators that were very important in life were my preschool teacher, Mrs. Zambrano, and my high school coach, Mrs. Jimenez. They fueled me every day with life skills and gave me confidence to trust myself to achieve anything I set my mind to. Education has a lot of meaning and to combine it with art makes it even more meaningful. Art is influential in our society and each generation uses it to express themselves. This makes me realize the impact that is taking place. 
How are you maneuvering being a student during the COVID-19 pandemic?
Covid-19 has affected many people, especially the younger generations with schools going fully virtual and adjusting to that. We're not able to socialize in class or do a hands-on activity or play a sport. For me, my agenda has always been packed and even when Covid hit, it was unexpected. I was awarded by UTRGV ESAA a scholarship for community engagement with a senior student where we participated in creating a painting to be an exhibit on campus. Later, it was made into a virtual gallery. At that time, I was tutoring online and was a full-time student.
What are your greatest strengths and what are some challenges?
I was always an organized person, but never to the point to where I wrote things down. Covid got the
best out me to design my agenda with so much time in advance and manage my time wisely. I tried staying positive through Covid and cleared the negatives in life. One of my major challenges was the loss of my grandfather during Covid and during finals week. He passed away due to an infection where his diabetes consumed him. I wasn't expecting to say goodbye so soon. After his goodbye my life took a drastic change into being filled with more blessings than expected. I got accepted to the Education Program and my project was a success.
What do you hope to achieve beyond completion of your major?
After completing my major, I want to become a either an art teacher or art history teacher at the high school level. My goal is to become a dual enrollment instructor and offer trips to students so they can study abroad and know more about different artistic cultures and discover new art techniques.
What do you like most about UTRGV?
The campus is well equipped to provide excellent service and education. Its professors are always there to offer students help in the careers we are interested in, and they provide sufficient organization that can help us grow into better leaders.
What does being a Vaquero mean to you?
Being a Vaquero, to me, symbolizes both where I grew up in and being a self-driven to accomplish things. Knowing your family and education supports you, and your ideas and decisions, can be very rewarding. 
What opportunities has UTRGV helped you find throughout your community?
Even before enrolling at UTRGV, volunteering was a part of me, this new chapter just increased it to a new level. Becoming vice president of the ceramics organization and forming part of Delta Zeta Sorority has made me realize how much I'm capable of. In the ceramic's organization, we gave handmade bowls to people in need. As for being VP of Philanthropy for Delta Zeta, we cleaned up highways and fundraised for the Starkey Foundation, which helps people get hearing aids and learn sign language around the world. 
What advice do you have for fellow students pursuing degrees during the COVID-19 pandemic?
Students that are enrolled or are planning on enrolling - don't give up. Now, more than ever, it's time to accomplish what you've been thinking about and to finish what you started. Always be the best version of yourself and design a life that contains more memorable moments that you will always look back on.