Sub Menu Toggle
Abril Zepeda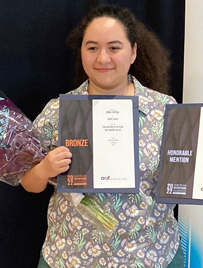 Name: Abril Zepeda
Age: 21
Major: Graphic Design
College: College of Fine Arts
Hometown:  Reynosa, Tamaulipas
High School: Escuela Preparatoria Gral. Francisco J. Múgica 
Why UTRGV?
I chose to attend UTRGV because I got to see from my brother the amazing experience that he was having. I wanted to experience the same thing. Coming from Mexico it has been an easy transition and it is close to home.

What made you decide on your current major?
I love art and how powerful it is. My mom is an artist, so it runs in the family. 
How are you maneuvering being a student during the COVID-19 pandemic
I try to practice and study what I learn in my classes to compensate the difficulties of remote learning.
What are your greatest strengths and what are some challenges? 
Some of my greatest strengths is that I am dedicated, responsible, and I give my all on each project that I need to complete. My challenge is trying to find a quiet place to take a class online.
What do you hope to achieve beyond completion of your major?
I want to start a master's degree. 
What do you like most about UTRGV?
I like the campus and all the opportunities that I have had. I've been able to work and test my skills here, and I've met students, faculty, and staff that are a big help in college.

What does being a Vaquero mean to you?
Being a Vaquero means that I get to graduate from a great university that is continually improving, growing, and making sure that we are achieving our goals. Another thing is that professors and staff care about you as a person.

What opportunities has UTRGV helped you find throughout your community?
Since day one, working on campus allowed me to find role models and a mentor which ease the transition to UTRGV. Also, being able to do service learning has expanded my help and interest in the community.
What advice do you have for fellow students pursuing degrees during the COVID-19 pandemic?
Don't lose track of why you started and what you want to accomplish by getting your degree and remember that you got this! Work hard and remember to get better each day and enjoy the opportunity and all the experiences that you are about to encounter.