Sub Menu Toggle
Victor G. Ramirez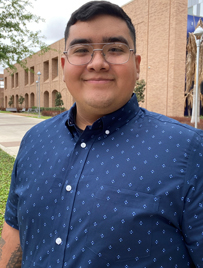 Name: Victor G. Ramirez
Age: 22
Major: Mass Communications
College: College of Liberal Arts
Hometown: Brownsville, Texas
High School: Veterans Memorial Early College High School 
Why UTRGV?
UTRGV wasn't my first choice, but I decided to stay because of its proximity to home. While I couldn't go out of the Valley for school, looking back, I don't regret staying due to the amazing people I met. We are fortunate enough to have a university that covers and represents the Rio Grande Valley and our Hispanic culture. UTRGV has been able to give me the college experience without putting me in debt.
What made you decide on your current major?
I didn't know what I wanted to pursue when I was applying to universities and colleges my senior year, but I did know I wanted to make a difference. I decided on my current major during my sophomore year at UTRGV while working for the Student Media department. I saw the hard work every student employee put in to make the newspaper at The Rider, a live newscast for Vaquero Radio, TV news package for KVAQ-TV and annual magazine Pulse. Once I started writing my own stories for Student Media, the satisfaction I received when I was able to inform the campus community on news student had not heard of was indescribable. I knew I had to change my major to better enhance my knowledge to grow and do improve my reporting.
How are you maneuvering being a student during the COVID-19 pandemic?
It hasn't been easy transitioning from face-to-face to virtual classes, but I adapted to finish my college career. I treated the online classes as an in-person course by dressing up and keeping track of all of my homework in a weekly calendar. While having classes and working virtually, I set reminders on my phone to help me stay on track with deadlines. 
What are your greatest strengths and what are some challenges? 
My greatest strength is being able to adapt to change, which was no different when the pandemic hit, and we had to go virtual. I have been doing my best to give it 100% at work and school. While I was able to adapt to a virtual setting, such as making my room feel like an office, it still came with some challenges. The challenge I have been facing is communicating and asking for help during the virtual setting. I tend to second guess myself because I sometimes worry that I am not doing something right or I am not qualified to do the job. I rather get my input in person but because of the COVID-19 pandemic, I have been doing my best to settle for phone calls and emails.
What do you hope to achieve beyond completion of your major?
I hope to find a job in my field and be able to spread important information to the community, whether it is breaking news or a feature story, using text, video and/or social media. 
What do you like most about UTRGV?
What I like the most about UTRGV is the beautiful Brownsville campus and the students, faculty, and staff across the Rio Grande Valley. Without our Vaqueros, UTRGV would not be where it is right now, making a difference in the Rio Grande Valley and its students.

What does being a Vaquero mean to you?
Being a Vaquero to me means being proud of our Hispanic culture and UTRGV. I get to wear cowboy hats, too. That's fun.

What opportunities has UTRGV helped you find throughout your community?
It has helped me find amazing friends that I will keep in contact even after I graduate. I was given the opportunity to find the major I wanted to pursue and gain insight on.
What advice do you have for fellow students pursuing degrees during the COVID-19 pandemic?
It is not easy but take it day by day and always remember why you are pursuing a degree. You are not alone in this; there are thousands of other students pushing through just like you are.