Sub Menu Toggle
Latifah Khuffash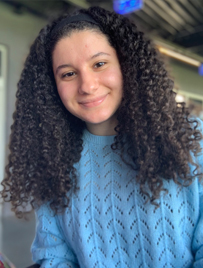 Name Latifah Khuffash
Age: 20
Major: Graphic Design
College: College of Fine Arts
Hometown: McAllen, TX
High School: James Nikki Rowe high school, McAllen, TX 
Why UTRGV?
I chose to attend UTRGV since it is cost-efficient and close to home. During my first year of attendance, I already knew I made the right choice. The university is welcoming, offers many campus activities, and has such interesting classes for my degree plan.

What made you decide on your current major?
I decided on my current major during my junior year of high school. I had already taken a couple of graphic design classes and figured it may be a good fit for me. After researching the summer before my senior year, I had finalized my decision seeing how interesting design principles and poster design was to me.
How are you maneuvering being a student during the COVID-19 pandemic?
At first the transition to online learning was daunting to me seeing as how I prefer to be taught in-person. Being on the computer all day was very draining, but I feel now I am able to be more productive at home since both work and school are online. I found organizing and prioritizing my tasks to be the most effective solution, it is also beneficial to keep contact with professors and my supervisor during this time.
What are your greatest strengths and what are some challenges?
My greatest strengths would probably be my ability to prioritize my assignments, I never seem to forget a deadline. Due to COVID, I believe my biggest challenge is obtaining the motivation to focus on all the assignments I have to complete. It is important not to overwork yourself yet to be mindful of deadlines.    
What do you hope to achieve beyond completion of your major?
It is interesting how the design industry is filled with individuals of similar skillsets yet such different styles and workflows. I hope to achieve a vast skillset beyond completion of my major. Designers are expected to know so much in this day and age and I want to adapt to the industry standard, while creating work I enjoy that others will appreciate.
What do you like most about UTRGV?
My favorite thing about UTRGV is the friendly atmosphere within the campus. I always enjoyed strolling the Bronc trail for that reason, I found there is excitement around every corner.

What does being a Vaquero mean to you?
Being a Vaquero to me means to be resilient and confident. Attending UTRGV has made me more outgoing and social.
What opportunities has UTRGV helped you find throughout your community?
UTRGV has helped me find my first design job as well as introduced me to so many campus resources for my major and minor. There are so many organizations UTRGV has to offer, even during the virtual transition the university has kept me notified on all important events.
What advice do you have for fellow students pursuing degrees during the COVID-19 pandemic?
Keep moving forward! It can be so difficult to find motivation during this time, but just know you are not alone, there is no shame in asking for help from fellow students or contacting your professors during this time.