Sub Menu Toggle
Haimanti Majumder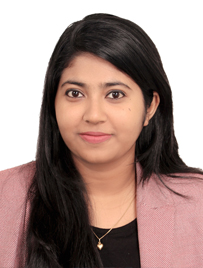 Name: Haimanti Majumder
Age: 27
Major: Master's in Chemistry
College: College of Sciences
Hometown: Noakhali, Bangladesh
High School: Holy Cross College, Dhaka, Bangladesh

Why UTRGV?
UTRGV is a university full of opportunities. Being a chemical engineer, I was looking for a research opportunity based on sustainable renewable energy. I saw UTRGV is doing great research on green energy, so I applied here. Moreover, UTRGV has great financial aid for international students which attracted me more.

What made you decide on your current major?
I chose chemistry as a major because I liked the research opportunities in this department. Also, the coursework is very rich here. After my undergrad study, I joined a company as a chemical and environmental compliance officer. While doing the job, I could see that I need to learn more about the environment and other aspects related to it. While looking for universities, I saw coursework and it matched exactly my requirements.

How are you maneuvering being a student during the COVID-19 pandemic?
After one month of my arrival in the USA, I faced the pandemic. It was a tough time for me being away from family in a foreign country. I tried to keep my mind calm and focused. Staying safe and maintaining social distance is the only way to take care of myself and others. As this was a whole new incident, I started losing all balances at first. My food habits, reading habits, lifestyle - everything changed and consequently my studies were also being hampered. Gradually I have adjusted my life by having proper food and exercising regularly. Now I am doing fine in my research work and course work and my mental health is fine too.

What are your greatest strengths and what are some challenges?
The challenges during Covid as a student was lack of in-person activity, I believe. Online classes and online meetings are hard for everyone. Luckily, my strength was staying calm in this situation. Things are getting better and one day everything will be normal again if we can maintain all the safety right now.

What do you hope to achieve beyond completion of your major?
I am applying for my PhD currently. As a chemical engineer, I always wanted to work in the search of green energy sources. My research work focuses on sustainable renewable energy and I hope to see myself working for humankind and the environment.

What do you like most about UTRGV?
I liked UTRGV initially for its research opportunity and financial assistantship. After starting classes, I like the professors and their teaching techniques. Teachers always welcome students and offer any kind of support, especially in this online study situation. I got the opportunity to meet the local community and they are unconditionally good people and welcoming to others.

What does being a Vaquero mean to you?
For me, being a Vaquero is an opportunity to grow. As Vaqueros, we are getting the opportunity to prepare ourselves to fight the real battle of life. UTRGV is preparing us for the future in every step. I am given the opportunity of knowing other communities via UTRGV and letting others know about my country as well. Being a Vaquero is a moment of pride for me.

What opportunities has UTRGV helped you find throughout your community?
UTRGV is providing me the opportunity to work, not just for my community, but also for the whole universe. UTRGV introduced me to the Office for Sustainability. They taught me how to think about a society and for environments through my research. UTRGV has encouraged me to establish my research as a full-grown business through the UTRGV Center for Innovation and Commercialization (CIC). As a reward of all my hard work, UTRGV has awarded me the International Female Student of the Year award for 2021. All these encouragements gave me more confidence to grow further in the future.

What advice do you have for fellow students pursuing degrees during the COVID-19 pandemic?
I would advise the fellow students to stay calm. This is a hard time, but we will get though it eventually. Good days are ahead. Stay safe and take care of yourself.