Sub Menu Toggle
Denisse Salcedo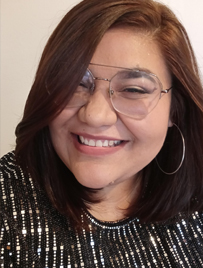 Name: Denisse Salcedo
Age: 29
Major: MEd in Clinical Mental Health Counseling
College: Department of Counseling, College of Education and P-16 Integration
Hometown: McAllen, TX
High School: McAllen High School 
Why UTRGV?
I had such a great learning experience as an undergrad when it was still UTPA, that it just felt right to come back to UTRGV when pursuing a higher degree. I was also very impressed with the level of faculty, the competitive program and the accreditations that the university offers.

What made you decide on your current major?
As a child of Mexican immigrant parents, I found myself straddling dual cultural identities and the stressors that amplify what that means. As I lived abroad and interacted with the Latinx community within those countries, I saw a real need for mental health among Hispanics, with appropriate cultural approaches to our treatment.
How are you maneuvering being a student during the COVID-19 pandemic?
Even though online classes fees different from face to face ones, I try my best to treat it like a "normal" class. I write down my week, what I need to get done and make sure I follow my planner so that I can make time to be a student as well as having leisure time. I also like to keep in touch with my professors and interact as much as possible with my classmates. Zoom has been a great tool!
What are your greatest strengths and what are some challenges? 
I am a very adaptable person, and this has been a blessing through Covid. I have found ways to feel close to those I love, work out from home and try new things. Some of the challenges have been hard on my outgoing personality! Not being able to travel at all or visit my friends and family becomes hard after a while.
What do you hope to achieve beyond completion of your major?
My hope is to work with our immigrant community. To provide adequate and culturally sensitive practices to their mental health. I would love to have my own practice or work for a nonprofit if I'm serving my community. 
What do you like most about UTRGV?
What I like the most about UTRGV is the sense of family the university gives off. It truly does look out for the students and understand the necessities of the mainly Hispanic community it serves. The faculty is top notch and the campus is beautiful!

What does being a Vaquero mean to you?
Being a Vaquero means serving my community. Making a difference with the values and education the university provides.

What opportunities has UTRGV helped you find throughout your community?
Through UTRGV I was able to find a passion for sustainability. Not only environmental, but social and economic as well. I was fortunate enough to be part of the team that worked to make our campus sustainable through AASHE. This has influenced the way I see mental health as part of social sustainability.
What advice do you have for fellow students pursuing degrees during the COVID-19 pandemic?
I say go for it and don't give up! I know it's hard, but I see it as a motivating challenge. I think this now is the right time to continue our education so that we may further assist the unique community that makes the RGV.