Sub Menu Toggle
Catherine Muriuki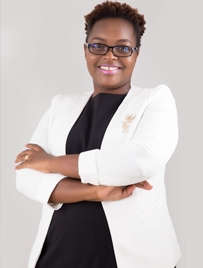 Name: Catherine Muriuki
Age: 37
Major: Master of Science in Sociology
College: College of Liberal Arts
Hometown: Nairobi, Kenya
High School: Gatugi Girls Secondary School, Nyeri, Kenya
Why UTRGV?
My university of choice was one that provides quality and affordable education, this is exactly what you get at UTRGV. The environment is particularly very conducive for international students. UTRGV also provided me with great opportunities for my intellectual development and career advancement.
What made you decide on your current major?
I chose Sociology as an area of focus because I needed a course that would complement my undergraduate studies in Microfinance. The Sociology curriculum at UTRGV gives me the chance to gain knowledge in patterns of human behavior, social relationships, different cultures, the challenges that women face, and family dynamics. This knowledge and experience will help me in developing the requisite skills required in areas of financial and women empowerment and sustainability.
How are you maneuvering being a student during the COVID-19 pandemic?
I have had to make a few changes on my mode of operation especially with all classes going online. Being a new experience altogether, I decided to learn online presence management skills in order to optimize my efficiency and adapt to the new normal. UTRGV has also made the transition very smooth and extremely bearable by providing the required resources thereby making students have the best possible learning experience.
What are your greatest strengths and what are some challenges? 
I am a self-motivated, performance-driven, and an enterprising individual who has a never say die spirit and has a high regard for objectivity and professionalism. As a woman growing up in the ghetto, I have risen against all odds to surmount the challenges and present myself as a role model to other girls who face my predicament. The same spirit has made me remain resilient in the wake of Covid-19 and has helped me handle the disruptions brought about by the pandemic. My greatest challenge has been balancing my studies and my motherly duties. In Kenya, I had family around me to help take care of the children while I was studying or working. I am grateful this new experience has strengthened my bond with my daughter.
What do you hope to achieve beyond completion of your major?
I am very passionate about community development and a strong believer that knowledge-sharing and capacity building makes a huge difference in building strong and resilient communities. I have always enjoyed getting involved in communal activities as well as practical application of theoretical material. Upon completion of my major, I hope to lead initiatives focused on community development, empowerment and sustainable community projects.
What do you like most about UTRGV?
The UTRGV student's fraternity and faculty are very warm, friendly and constantly demonstrate a sense of diversity and inclusion. The set up and architecture of the campus environment has such a calming and a therapeutic effect and allows one to be their best self.
What does being a Vaquero mean to you?
To me, being a Vaquero means developing a clear sense of self, understanding that no human is limited and working towards achieving our dreams and being the best version of ourselves. It also means being ready and willing to contribute to the success of others and giving back to the community. UTRGV presents an environment that allows the spirit of Vaquero to flourish.
What opportunities has UTRGV helped you find throughout your community?  
UTRGV provided me with an opportunity to participate in the sustainability fellowship program. As a woman who comes from a third world background, I look forward to the community engagements offered by this fellowship and the opportunities to network with individuals at different levels in the community as well as my fellow colleagues. The very rigorous nature of the fellowship program provides a milieu that suits my needs perfectly and will go a long way in making me a thought leader in designing and implementing community-based programs.

What advice do you have for fellow students pursuing degrees during the COVID-19 pandemic?
My advice is that they should remain focused and resilient amid the pandemic. Tough times never last but tough people do. They should not lose their true North. Even during challenges, they should know that the future is bright and belongs to those who believe in the beauty of their dreams. The fact that they are in UTRGV is a testament of good things to come and a sign that they are closer to their goals than they think.