Sub Menu Toggle
Ricardo Duarte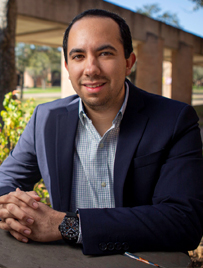 Name: Ricardo Duarte
Age: 25
Major: Master of Science in Clinical Rehabilitation Counseling
College: College of Health Professions  
Hometown: Pharr, Texas
High School: PSJA North High School
Why UTRGV?
UTRGV offered one thing to me that no other university could offer, which was closeness. The fact that I can attend a university right in my neighborhood without ever leaving my home or my family didn't make me think twice about my choice to attend UTRGV. I had the same idea when I was graduating from high school and was able to attend UTPA and earn a bachelor's degree in Psychology back in the spring of 2015. The fact that I can attend UTRGV and go back home after my classes makes it perfect for me.
What made you decide on your current major?
My grandfather experiences Alzheimer's disease and I became the primary caregiver for him. Caring for him started to build an idea in me, making me realize that I would love to help other individuals who may be experiencing a form of disability. 
What do you hope to achieve beyond completion of your major?
My goal is to help individuals with problems they may be experiencing. In the future, I hope to obtain an LPC license so that I can provide counseling services to the residents of the Rio Grande Valley. 
What do you like most about UTRGV?
One thing I like the most about UTRGV is the professors. Dr. Elizabeth Palacios and the rest of the professors within the School of Rehabilitation and Counseling demonstrate such passion and knowledge in what they teach. I also enjoy working with all my coworkers from P-16 Outreach. They are not only incredible people but also the greatest friends that I have met at UTRGV.

What does being a Vaquero mean to you?
Being a Vaquero means that I can embrace my Hispanic roots. I can experience how the American and Mexican cultures embrace each other making me feel proud for being a Bicultural Latino.    

What opportunities has UTRGV helped you find throughout your community?
The greatest opportunity UTRGV has given me is being able to work at P-16 Outreach as a Father-Son mentor. I get to attend middle schools and mentor students so that there can be a stronger bond between fathers and sons and, at the same time, encourage students to pursue a degree in a STEM-related field. My supervisor, Mrs. Lorena Roxburgh, not only guides me but also sets an example that I would like to follow when I begin to work as a counselor.  

What are a few of your favorite books?
A couple of my favorite books are "Gym Candy" by Carl Deuker and "Earth" by Bill McKibben. I really enjoyed reading them.  

What's in your playlist right now?
Currently, Metallica and Los Angeles Azules are on my playlist. I have always enjoyed all types of music and I listen to pretty much any artist.