Sub Menu Toggle
Layda Spor-Leal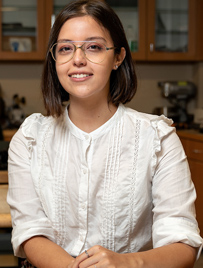 Name: Layda Belia Spor-Leal
Age: 21
Major: Civil Engineering
College: College of Engineering and Computer Science
Hometown: Ciudad Victoria, Tamaulipas, Mexico
High School: CBTis No. 24, Preparatory school in Ciudad Victoria, Mexico 
Why UTRGV?
I choose UTRGV due to how open and accessible the university is for students of different backgrounds. As an International Student, it was imperative for me to find a place that would not only accept but celebrate different cultures the way UTRGV does.
What made you decide on your current major?
The reason why I chose to pursue a Civil Engineering degree is because I had always been interested in designing and creating but wanted to do so in a way that required more than just the aesthetic aspect of design. In engineering, it is not only important to consider the visual result but also the practicality of your design, taking in account all sorts of factors that affect it. The creative and mathematical challenges that come with this profession are the most appealing to me. 
What do you hope to achieve beyond completion of your major?
I hope to one day be part of the movement that helps protect our environment as well as further develop our global society in an ethical and efficient manner. 
What do you like most about UTRGV?
I love the community and the engagement that comes with being a student here. I have been able to meet incredible people that have helped me grow immensely as a future professional and as a person.

What does being a Vaquero mean to you?
To be a Vaquero means to be part of a community filled with diversity that mutually supports each other in their journeys towards success.

What opportunities has UTRGV helped you find throughout your community?
The variety of classes and subjects the university provides has allowed me to pursue multiple interests and share that with the world. UTRGV provided me with the opportunity to develop my skills in drawing as well as allowing me to learn more in depth astronomy in a much more efficient and fun way.
What are a few of your favorite books?
"The Bell Jar" by Sylvia Plath and "The Hitchhiker's Guide to the Galaxy" by Douglas Adams. The way Sylvia Plath expresses emotions in her novel really resonated with me at that time of my life when I first read it and to this day, it remains close to my heart. The story of the author and the background behind the novel itself also made me grow more attached to it. "The Hitchhiker's Guide to the Galaxy" is a book with a great sense of humor and creative narrative that always puts me in a good mood.

What's in your playlist right now?
Bombay Bicycle Club and Crumb are at the top of my playlist currently.