Sub Menu Toggle
Jesenia Riojas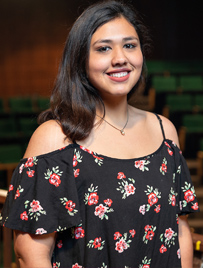 Name: Jesenia Michelle Riojas
Age: 24
Major: Theatre Design
College: College of Fine Arts
Hometown: McAllen, TX
High School: McAllen High School
Why UTRGV?
I'm a first-generation college student, so for me it was really important to find an affordable college close to home. UTRGV provided me with that security as well as gave me an opportunity to get to know the community that makes up the Rio Grande Valley.
What made you decide on your current major?
My love of writing, music and performing really influenced my choice. I want to write and direct my own plays. "In The Heights" by Lin-Manuel Miranda and the story behind it also impacted my decision. I was inspired by the combination of hip-hop and theatre; it showed me I can tell a story about my community with my own unique style.
What do you hope to achieve beyond completion of your major?
I want to become a teacher and help the Valley grow in the fine arts. I had so many positive and inspiring teachers in my career, I want to make an impact the way they did with me. I hope to create a scholarship for Latino students who want to pursue the fine arts.
What do you like most about UTRGV?
I love the basketball games and the fire my professors bring to the classrooms. They really encourage us to get involved in productions, films and learn as much as we can. Directing, creative drama and my design courses are probably my favorite classes because they challenge us to creatively think outside of the box.

What does being a Vaquero mean to you?
To me, being a Vaquero means being proud of where you're from, accepting challenges and never giving up. Life has a way of shaping us into the people we need to be, and I'd like to think that every situation and person we connect with plays a role in our growth.  

What opportunities has UTRGV helped you find throughout your community?
I use the skills I learned to give back to my community and organizations. I work at the UTRGV Child Development Center as a teaching assistant. I use creative play with the students to enhance critical thinking, creativity and problem solving. At my church I co-lead the young adult ministry leading Bible studies, as well as writing and direct skits using devised theatre techniques.
 What are a few of your favorite books?
 I'm currently reading a historical fantasy called "Gods of Jade and Shadow" by Silvia Moreno-Garcia. It's based off Mexican folklore. I love books based on mythology; they are really imaginative.

What's in your playlist right now?
I'm open to all kinds of music, so my playlist jumps around a lot. I have Rock, Billie Eilish, Little Mix, J. Cole and Chloe x Halle.