Sub Menu Toggle
Fernanda Figueroa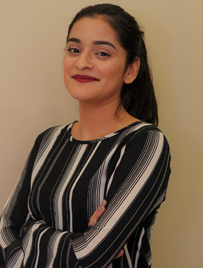 Name: Fernanda Figueroa
Age: 21
Major: Mass Communication (Print Journalism) & Political Science
College: College of Liberal Arts
Hometown: Donna, TX
High School: Donna North High School 
Why UTRGV?
I chose to attend UTRGV because I knew that it would allow me to grow my skills in an extremely welcoming environment and provide me the resources I needed all while still being close to home.
What made you decide on your current major?
Since, I was five years old I knew I wanted to be a journalist - the real-life Lois Lane. The 2016 presidential election motivated me to pursue a degree in political science so I would be able to properly report on the political issues plaguing our country so the public could better understand the issues at hand.
How are you maneuvering being a student during the COVID-19 pandemic?
I have been luckier than most but it's tough having all my summer courses online and finding the motivation to stick to a schedule. I remind myself that eventually the world will go back to normal, we just have to wait it out and that its okay to take a break every once in a while and do a puzzle or watch a TV show.
What are your greatest strengths and what are some challenges? 
I am an extremely determined and motivated individual, but our current situation has put a bit of dent in those characteristics. I pride myself that during this time I have kept up with all my work and picked up new hobbies, but it has been difficult to find ways to fill all this extra time.
What do you hope to achieve beyond completion of your major?
Ultimately, I want to become the White House Press Secretary and Director of Communications. I think I can help the public be more informed about the issues that affect our everyday lives to the point where the public feels they can truly understand the administration I represent. 
What do you like most about UTRGV?
Definitely the people. I have met some of the most intriguing and unique individuals since I have been here, and they are amazing and have become some of my closest friends.
What does being a Vaquero mean to you?
There's a sense of pride being a Vaquero and part of a university that does all it can to help its students, especially those with fewer resources. Being a Vaquero means we are part of something bigger than ourselves and that is something I can be extremely proud of.

What opportunities has UTRGV helped you find throughout your community?
UTRGV has provided me the opportunity to get the experience necessary as a look to enter the workforce. I have been lucky to work with the Athletics Communications Department, which affirmed my passion for journalism, research and all things communications related, and The Rider. These opportunities are ones that I'll cherish forever and are the steppingstones for my future.
What advice do you have for fellow students pursuing degrees during the COVID-19 pandemic?
We are living through history right now and it is scary because we do not know how it's going to end but we have to be hopeful. Everyone is in a different situation right now, some more difficult than others, but it is important that we continue fighting for out dreams. We have to remember that education is the gateway to greatness. In a couple of years, we'll look back at all the sleepless nights and stressful days and realize that it was all totally worth it.