Sub Menu Toggle
Ashley Garcia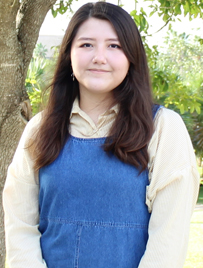 Name: Ashley Adair Garcia
Age: 21
Major: Graphic Design
College: College of Fine Arts
Hometown: Brownsville, TX
High School: Lopez Early College High School, Brownsville, TX
Why UTRGV?
I chose UTRGV because I wanted to attend a college that was both flexible and affordable. Attending UTRGV gave me the opportunity to be close to my family and home while also establishing close relationships with other students and my professors.
What made you decide on your current major?
I have always been interested in the arts from a very young age, but because the world currently and mainly runs through technology and communication, I decided to combine my passion for the arts into visual communication design, or graphic design. Graphic design allows me to explore other mediums aside from traditional art mediums, such as digital illustration, web and app design, and even motion graphics - it's not solely restricted to tangible mediums.
How are you maneuvering being a student during the COVID-19 pandemic?
To be completely honest, I was weary of how things would move forward with the current situation we are in but seeing that my school offered various opportunities to help students during these uncertain times made me want to work even harder. At times, it does seem difficult to keep myself motivated when I'm in the same environment day after day, though I try to change my routine in order to feel more productive and focus on completing the given tasks of the day. 
What are your greatest strengths and what are some challenges? 
One of my greatest strengths is being perseverant. However, this does come with challenges when things don't come easily, especially in our current situation. There are times where I feel unmotivated to keep going forward, but I know that my hard work will carry over into everything I do in the future even if it becomes a difficult task to overcome. 
What do you hope to achieve beyond completion of your major?
Having been studying graphic design has made me realize that it does not only lie within the advertising field but can be found in other areas such as self-branding and entrepreneurship. After the completion of my major, I hope to have settled a business of my own in design apparel and stationery, and gain recognition as an artist and graphic designer.    
What do you like most about UTRGV?
In addition to its beautiful campus, the thing I like most about UTRGV is that it was able to come forward into helping its students and faculty by offering various opportunities both financially and academically despite the current situation we are living in.

What does being a Vaquero mean to you?
Being a Vaquero means taking pride in what you accomplish as a student and as a person while attending UTRGV.

What opportunities has UTRGV helped you find throughout your community?
UTRGV was able to offer me the opportunity of gaining work experience in my desired field. Working as the graphic designer at the student union has given me a taste of what to expect and what's to come as I move forward with my career.
What advice do you have for fellow students pursuing degrees during the COVID-19 pandemic?
Just keep moving forward even though it may seem like the near future is uncertain, one thing for certain is that you are aiming for success.