Sub Menu Toggle
Abigail Ortiz-Dominguez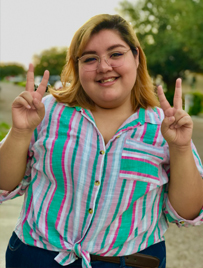 Name: Abigail Ortiz Dominguez
Age: 22
Major: Mass Communications
College: College of Liberal Arts
Hometown:  Rio Bravo, Tamaulipas, Mexico
High School: Mission Collegiate High School, Alton, TX
Why UTRGV?
I decided to attend UTRGV because I love the RGV. I love my community and I only want to see it thrive. Attending this accredited university does make me feel excited for the future of my community and hopeful for the generations to come.
What made you decide on your current major?
When I was in high school, I had the opportunity to participate in Journalism U.I.L. It started as an accident since when I first competed, it was only to pass the time between events, but I ended up having a lot of fun competing and even placed in two of the events. My love for writing just grew from there.
How are you maneuvering being a student during the COVID-19 pandemic?
It was a challenge at first; it has been a learning experience. My time management required some work at first, but I'd like to think it's gotten better. My organization skills have definitely improved, and I've found that captions on my online lectures are my best friend!
What are your greatest strengths and what are some challenges?
My greatest strength AND weakness have been having to socially distance from my loved ones. My extended family lives in Rio Bravo and I miss them so much. We have video calls whenever we can and being able to see them, even though it's just through a screen, makes me keep faith that this pandemic will be over soon, and I'll be able to hug them again. My friends and I have found it extremely difficult not being able to hang out like usual and Zoom have been integral in having that connection. Zoom study sessions do help a lot, and if we end up playing Animal Crossing afterward, we deserve a little break.
What do you hope to achieve beyond completion of your major?
I hope to encourage more people like me to pursue a college education. I want to show other Latinx and Hispanic students that we can do anything we set our minds to, and that we need to lift each other and our community up.
What do you like most about UTRGV?
What I like about UTRGV the most are the opportunities. It has opened so many doors for me, and the one I appreciate the most is being able to work at the Student Union. I have learned so much working for the information desk and the events team. It really is an amazing first job, and the people I have met here have all been nothing but kind and supportive. All of my supervisors have been so understanding and want to see us succeed, and that shows with the work environment they create for us. I love the Student Union - my time here will be something I take with me everywhere I go.
What does being a Vaquero mean to you?
Being a Vaquero means having pride in my school and my community. It means helping out whenever I can and creating a safe space where everyone feels welcomed and understood.
What opportunities has UTRGV helped you find throughout your community?
UTRGV has given me so many opportunities, but most importantly, it has led me to meet some of the most amazing people. I met some of my best friends here and they have helped me become the person I am today. They offer nothing but love and support and having a circle that understands you during trying times is very important.
What advice do you have for fellow students pursuing degrees during the COVID-19 pandemic?
Make sure you ask for help when you need it. This is a learning period for students and professors alike, so make sure you ask questions when needed. UTRGV also offers so many resources that are helpful. Don't put your education on pause, there is still a way to stay safe and get educated.