Sub Menu Toggle
Roberto De La Garza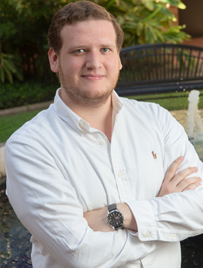 Name: Roberto De La Garza
Age: 21
Major: Biomedical Sciences
College/Department: College of Health Professions
Hometown: Brownsville, Texas 
Why UTRGV?
I decided to attend UTRGV for the Rio Grande Valley's rich culture and its proximity to my home. As a Biomedical science student, UTRGV offers a wide spectrum of research fields and topics to choose and learn from. Additionally, UTRGV offers a quality education comparable with many of the state's leading public universities.

What made you decide on your current major?
Coming from a community that is largely underrepresented has had a profound influence on my career goals and objectives. I chose biomedical sciences to tackle issues with diversity, inclusion and health disparities in my community. 
What do you like most about UTRGV?
UTRGV has many great qualities, however, my favorite is our community on campus. Mostly everyone on campus is friendly, so it's easy to make new friends and have great conversations.

What are some of your favorite study spots on campus?
One of my favorite study spots is on the second floor of the Brownsville Music, Science & Learning Center. The huge study rooms and open space allows me to think clearly and be more creative. 

What does being a Vaquero mean to you?
To me, being a Vaquero means representing the Rio Grande Valley with my head held up high, taking on challenges, and exceeding expectations. It also means that we can all make a difference in our community and help wherever needed.
What opportunities has UTRGV helped you find throughout your community?
Currently I'm working in a UTRGV research lab. My mentor, Dr. Upal Roy, and various UTRGV organizations have made it possible for me to travel to different conferences and present my current research at various symposiums. With this, I'm grateful that through a collaborative effort I was able to realize my passion for research in microbiology, immunology and neurology.

What are a few of your favorite books?
"Pale Blue Dot: A Vision of the Human Future in Space" by Carl Sagan, has to be one of my favorite books of all time. Carl Sagan explores the dimensions of space and time. He also compares how small the earth is compared to that of our cosmos. "Welcome to the Universe" by Richard Gott is almost like an introductory astronomy course. Planets, stars, galaxies, blackholes, and wormholes are all explained in great detail alongside great illustrations. 

What's in your playlist right now?
I recently stumbled upon an artist named Facundo Cabral from Argentina. Cabral is a renowned composer known for incorporating his life teachings into his music. He's not exactly the best singer, but his lyrics have a great meaning.