Sub Menu Toggle
Mariana Cerda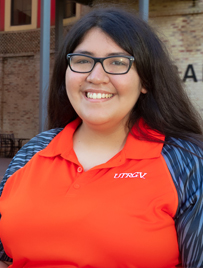 Name: Mariana Cerda
Age: 21
Major: Biomedical Sciences
Hometown: Weslaco, TX 
Why UTRGV?
My parents attended the university when it was UTPA, so I was always interested in the school and knew I would apply. I was admitted into the BMED program and was excited for the opportunity. I love that UTRGV has so much to offer and it is so close to home.

What made you decide on your current major?
I have always loved science and knew I wanted to pursue a career in that field. I decided to major in Biomedical Sciences because the program had a lot to offer. During our first year we were given iPads with our books and other resources for our courses, we even got take-home chemistry kits. Our cohort ended up becoming really close because we had all our classes together. My BMED professors are amazing and love that our classes were small enough for the professors to learn our names. 
What do you like most about UTRGV?
I love the opportunities UTRGV gives us and the people here. I'm fortunate enough to work for the Department of Recruitment as an orientation leader. The job has given me so many opportunities - I got to meet so many people and build so many friendships. I was even able to go to a conference in Alabama in January.

What are some of your favorite study spots on campus?
On the Brownsville campus, I prefer reserving a study room on the third floor of the library. In Edinburg I like to study in the Science building.

What does being a Vaquero mean to you?
Being a Vaquero means having pride in the university, the student body, and yourself; it means embracing our culture and learning about it. We have the Vaquero honor code to remind us what it means to be a Vaquero: we are honest, we have integrity, we have respect, we are Vaqueros!
  
What opportunities has UTRGV helped you find throughout your community?
I joined a co-ed fraternity named Alpha Psi Lambda, I was able to do a lot of community service through the fraternity, such as: highway clean ups, boo at the zoo, helping the food pantry, participating in MLK day, Sombrero Fest, and Make a Difference day. I have also been able to learn more about our culture and the community (like the meaning of Charro Days).  

What are a few of your favorite books?
I tend to prefer fictional books, a few would be the "Harry Potter" series, "Anne of Green Gables," "The Great Gatsby," "Ultimate Hitchhiker's Guide to the Galaxy" and "Ender's Game."

What's in your playlist right now?
I listen to a variety of music, but lately I've been listening to rap or whatever is on the radio.