Sub Menu Toggle
Joseph Marquez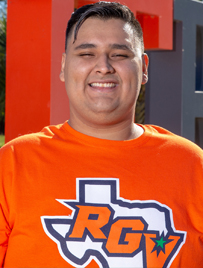 Name Joseph Lee Marquez
Age: 24
Major: Finance
Hometown: Brownsville 
Why UTRGV?
I chose UTRGV because it is meaningful to graduate here since Brownsville is my hometown. I feel that it is always good to remember where you came from. I will always strive to help this city progress. I would love to see the whole Valley progress and reach its full potential. UTRGV offers a degree in finance and it's a very good quality education for a reasonable cost. Growing up with a father that had five strokes and open-heart surgery, and a mother who has a bone spur in one arm, made my journey difficult as I had to be close to my family to help them out as much as I could with daily activities they were not able to do on their own. UTRGV gave me this amazing opportunity to stay close to home and I am extremely grateful for it.

What made you decide on your current major?
I decided to major in finance because of my love for numbers. I feel that anything having to do with numbers is a breeze to me. Also, in my spare time I like analyzing trends in the New York stock exchange for potential long-term investments. There's money to be made with a finance degree and this inspires me as money was always scarce in my household throughout my college journey. Providing a better life for my family is my main goal.
What do you like most about UTRGV?
What I like the most about UTRGV is that it is close to home; home is where the heart is. Also, the professors from here are amazing and care for the students. Sometimes when I wanted to give up on school because it was overwhelming, my teachers were there to give me words of inspiration. The three professors that have had a positive impact on my life are Dr. Jorge Vidal, Dr. Sergio Garcia and Dr. Kenneth Lovell. Dr. Garcia was there to give me encouragement as I visited his office to discuss my grade only minutes after my grandmother passed away. Dr. Vidal showed me how kindness can go a long way as he invited our class to a cookout when my family barely had any food for the week. I considered this an incredibly kind gesture and I made sure to let him know that meal meant a lot to me. Dr. Lovell's courses showed me nothing in life is easy; you must push yourself past your own limits to strive for greatness and properly manage risks.

What are some of your favorite study spots on campus?
I come from a one-bedroom home, so anywhere I can get a little bit of silence is great. On campus I would either go to the library or student union. I like the library a little better since it seems to usually be quieter than the student union, or I can easily find a bench to sit on and study.

What does being a Vaquero mean to you?
Being a Vaquero makes me proud because it is home. We live in a society where we are so close to Mexico, but still in America. Being a Mexican-American, the Spanish name makes me proud. Being a Vaquero is also special because in English it means Cowboys and the Dallas Cowboys are my favorite team.

What opportunities has UTRGV helped you find throughout your community?
One opportunity I like is handshake as it makes looking for a job easier. I like that we had access to resources like this because networking is always key. At the career center they helped me form a well-structured resume and got me a couple interviews.

What are a few of your favorite books?
My favorite books are "The Giving Tree," "The Outsiders" and "The Rose that Grew from Concrete." I feel like "The Giving Tree" is a good book because it's a great example on how we should cherish nature more in our everyday lives. "The Outsiders" is a story that really entertained me because it's like a warning for adolescents to be responsible. "The Rose that Grew from Concrete" because it is a book of Tupac Shakur's poems. It shows a side of him nobody has seen before he passed away as he was very knowledgeable.

What's in your playlist right now?
Currently in my playlist on is a little bit of Bach, Beethoven, John Legend, Tupac, Boyz II Men, Kendrick Lamar, J-Cole, Fredo Santana and Mac Miller. I currently have the song "Mo Bamba" on repeat.