Sub Menu Toggle
Jahdiel Salazar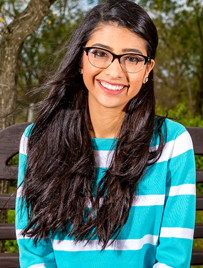 Name: Jahdiel Salazar
Age: 22
Major: Environmental Science
Hometown: Harlingen 
Why UTRGV?
I chose to attend UTRGV because I aim to contribute to my community as I enter the workforce and advance the RGV. UTRGV offers unique and high-quality education that allows for professional growth during students' academic careers. The proximity of the two close campuses has enriched my network with both diverse students and faculty. Building these relationships have aided in my continued success as a Vaquero!
What made you decide on your current major?
Growing up, my family and I owned pets and aided other animals in our neighborhood. I have always loved animals, but I wanted to help people as well. I felt that environmental science was an outlet that satisfies both of my career interests. Sustainable living and education of our reliance on nature enables us to save not only our planet, but also ourselves.
What do you like most about UTRGV?
What I enjoy the most at UTRGV is the faculty. Each faculty member has a unique teaching style and offers valuable intellect not found elsewhere! The dedication and service they provide to their students is admirable and deserves commendation. Every professor has motivated and pushed me to reach my fullest potential. Their faith in me has made me reach new opportunities in my academic career that I never thought possible.

What are some of your favorite study spots on campus?
My two favorite study spots are the third floor in the Edinburg campus library because it is so quiet and the third floor in the Brownsville campus library because you can see the campus' beautiful field.

What does being a Vaquero mean to you?
Being a Vaquero means that I am proud to be Hispanic and represent the RGV as we continue to grow.

What opportunities has UTRGV helped you find throughout your community?
Last summer I partnered with the McAllen Compost Facility for my senior research project and investigated the potential for South Texas organic farmers to profit from sweet potato crops during the summer season through enhanced soil biological activity and nutrient release. I was able to present my findings in San Diego, California at the Soil Science Society of America's International Soils Meeting and was greeted with great feedback and praise! I want to thank UTRGV for the opportunity to attend the prestigious event and my mentor, Dr. Engil Periera, for her continued support and motivation. We are now currently working towards publishing our findings. This research will bring us closer to a sustainable agriculture that will enable us to produce food for many generations to come.
What are a few of your favorite books?
 "100 Simple Secrets of Happy People" is short book with many great insights by scientist and academics on what makes people happy. It is amazing how simple changes in one's thought can have key impacts in their life. "The Sixth Extinction: An Unnatural History" is a powerful book that reinforced choosing environmental science as my major. This book compels us to rethink our role in this world and the legacy we are leaving behind.
What's in your playlist right now?
John Mayer, Post Malone, Taking Back Sunday, 50 Cent