Sub Menu Toggle
Carlos Hevia Alejano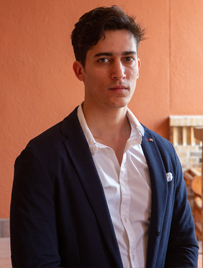 Name: Carlos Hevia Alejano
Age: 27
Major: Computer Science
Hometown: Havana 
Why UTRGV?
I was offered a chess scholarship to UTRGV while I was coursing my last semester at the University of Havana. It was exciting to study far from home, from your comfort zone, and what better place than Rio Grande Valley, a city enriched with Latin culture. 
What made you decide on your current major?
Once, playing Twister, the spinner of the game got broken and one of the players made a program in just a moment to simulate the spinner. I realized then how practical programming skills can be. In Cuba, due to my responsibilities toward the national chess team, I didn't study the major I wanted. At UTRGV I can finally follow the career that I'm passionate about. 
What do you like most about UTRGV?
Definitely the campus. The chess team travels regularly to competitions at other universities and every time I compare. I can say surely that our campus is worthy of envy.
What are some of your favorite study spots on campus?
The library or Starbucks.
What does being a Vaquero mean to you?
When we have good results we are congratulated by students we don't know and that's pretty cool because we feel the support. They feel proud for their chess team, the same feeling I get when I see news of our students and athletes being successful out there. Supporting and encouraging each other, that's what I understand to be Vaquero connection.
What opportunities has UTRGV helped you find throughout your community?
I have worked for the Physics Department, I have been a volunteer, part of a student organization and part of the amazing chess team. Thanks to UTRGV, I have learned a lot and met wonderful people and I am grateful for that.

What are a few of your favorite books?
I really enjoyed "The Iliad" and "Outliers," which is the last one I read.
What's in your playlist right now?
Anything except hard rock, mostly Latin pop music.