Sub Menu Toggle
Erick Longoria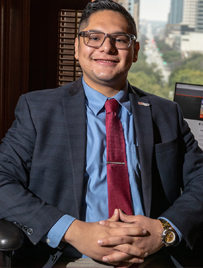 Name: Erick Longoria
Age: 21
Major: Political Science
Hometown: Brownsville 
Why UTRGV?
I always wanted to attend UTRGV for the Rio Grande Valley's rich history and proximity to the border. For a political science student, UTRGV is in a prime spot to study immigration and border security issues. Additionally, UTRGV offers a quality political science program on par with many of the state's leading public universities. Ultimately, it has been the conscious and determined effort by UTRGV to leverage resources for the benefit of all students that has set the school apart from the rest. 
What made you decide on your current major?
There wasn't a specific event that made me decide on my major, rather, it was the culmination of a lifetime exposure to political and societal issues that sparked my interest in pursuing my degree. As a political science student, I enjoy the challenge of having to think critically to be able to identify how issues relate to one another. I also appreciate the fact that issues discussed in class directly impact society, which motivates me to become a better student in order to effectively serve my community.
What do you like most about UTRGV?
The best things about UTRGV are the professors. They are, in my opinion, some of the best in Texas. They help me to continually grow both academically and professionally. Some professors have even taught both of my parents, which speaks to the experience and expertise that these great professors have. Their care and compassion for students is also not lost on me. I am truly lucky to be surrounded by great professors from all departments, not just political science. 
What are some of your favorite study spots on campus?
The best place to get anything done is the library. It's a great spot to retreat between classes and focus on schoolwork. The bookstore is an excellent place to study as well. It also doesn't hurt that both places are near snack shops. 
What does being a Vaquero mean to you?
To me, being a Vaquero means striving for nothing less than excellence. It means taking on challenges and exceeding all expectations. It also means extending a helping hand to those who need it and being someone who can be trusted and counted upon. 
What opportunities has UTRGV helped you find throughout your community?
Currently, I'm doing an internship in Senator Lucio's office in Austin made possible through UTRGV's Valley Legislative Internship Program. The extensive networking and the wide array of issues I am working on has been the highlight of my collegiate career. Additionally, the connections that I have made while working at the capitol has enlarged my view of issues and refined my perspectives, giving me a better understanding of topics in the classroom. Having applied for the internship was the best decision I have made thus far. The university has also afforded me the opportunity to expand my reach beyond the classroom and into the community through the various community service events in which I participated in. 
What's in your playlist right now?
My playlist is a melting pot of genres. One moment I am singing the country blues with Johnny Cash and the next I'll be screaming as "Bohemian Rhapsody" plays. My favorite band is Queen and out of the many great songs, my top three picks are "Innuendo," "Somebody to Love" and "The Great Pretender."