Sub Menu Toggle
Denise Hernandez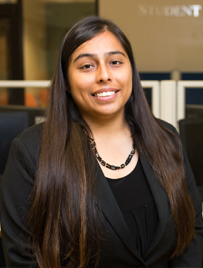 Name: Denise Kourtnie Hernandez
Age: 22
Major: Clinical Rehabilitation Counseling (MS)
College/Department: School of Rehabilitation Services and Counseling in the College of Health Affairs
Hometown: Corpus Christi, TX
Why UTRGV?
The reason that I chose to attend UTRGV as an undergraduate is because they have an excellent rehab program. Once I obtained my bachelor's degree, I decided to enter into a master's program because I enjoyed my experience as an undergrad and felt that UTRGV was able to provide me with a high quality and affordable education.

What made you decide on your current major?
When choosing a university, I wanted a major where I could obtain a degree that provided me with the skills and knowledge to help others. After my first semester as a rehabilitation services major, I felt passionate about the program and its ability to prepare me for my future. 
What do you like most about UTRGV?
I really enjoy meeting the people who make up UTRGV. The professors in the rehab program have guided me to succeed in my academic career. I will never forget when Mr. Fidencio Mercado met with me before my first semester and guided me until the end when I graduated with my Bachelor of Science in Rehabilitation Services. Through my work at the Student Involvement Office, I have met great people including, my best friend Esmer Gonzalez, my mentor Jodie Dominguez, my favorite professor Erica Giles, and many more. I really appreciate everyone being a part of my journey at UTRGV.

What opportunities has UTRGV helped you find throughout your community?
During my second semester as an undergraduate at UTRGV, I became part of the Student Involvement Office thanks to Sean Gilpatrick for seeing potential in me. I am currently a mentor to incoming students where I help them grow academically, personally, and through involvement. Working in the office has connected me to various organizations and resources that helped shape me into a leader. Current leadership opportunities that UTRGV has helped me find are being a member of the National Society of Leadership and Success, Golden Key International Honor Society, and the Graduate Rehabilitation Counseling Association. Through my undergraduate course work, I was able to intern with Tropical Texas Behavioral Health confirming that I want to support and advocate for others. Throughout my journey at UTRGV I have realized my future career goals of working in higher education.