Sub Menu Toggle
Cynthia Rodriguez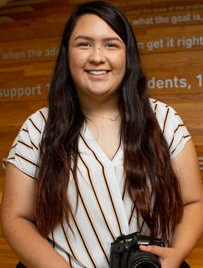 Name: Cynthia Rodriguez
Age: 22
Major: Mass Communications
College: Liberal Arts
Hometown: San Benito, TX
High School: IDEA San Benito 
Why UTRGV?
I chose to attend UTRGV because I wanted to stay close to my family, but still get the college experience of living on campus and being involved. I get to become an empowering leader during the week and then be able to visit my family on the weekends. What's so unique about UTRGV is that they offer so many opportunities to become a leader and grow out of your comfort zone to be able to take on whatever comes your way.

What made you decide on your current major?
It was my English class during junior year of high school that made me want to major in journalism. My teacher at the time (Carolina Medina) gave us an assignment to analyze op-eds and other newspaper articles to find strengths and weaknesses on how to create a better news story. Since then, I realized how amazing it was to be able to write about anything you wanted and having it published for the world to read. I really thank her for introducing the journalism world to me.
What do you hope to achieve beyond completion of your major?
I care for my friends, family and the community. That's why I plan to be a journalist. I want to work for big companies like The New York Times and The Washington Post to be the voice for people like me. I want to make sure that we are being heard and what we care about is important. I want my community to know that they are cared for and that I will be here to represent not only the Rio Grande Valley, but the Latinx community. 
What do you like most about UTRGV?
I love how involved the university is with our students. There are events every single day of the week, so you will never get bored being on campus! From involvement fairs to career expos, UTRGV has it all!

What does being a Vaquero mean to you?
To me, being a Vaquero means being proud of a place I am honored to call my home.
What opportunities has UTRGV helped you find throughout your community?
UTRGV has so many opportunities for us as students, but one that helped the most was knowing that there are different types of organizations to join. I joined Alpha Sigma Tau Sorority in 2016 and as of fall 2019, I am the president. Ever since joining, I was able to improve my skills in organization and leadership. Because of everything that I learned and how involved I was with the community, I got to intern at the U.S. House of Representatives in Washington, D.C. for the entire summer! I thank UTRGV for offering student organizations like Alpha Sigma Tau to join and for letting us have the chance to grow as a leader to help our community.

What are a few of your favorite books?
My favorite book of all time is "The Fault in Our Stars" by John Green. It was one of those books that I could read over again and never get tired of it. My second favorite book is "The Truth About You and Me" by Amanda Grace because I was able to understand what the characters go through. Whenever I read this book, it felt like I was there with them and it took me to a whole different universe.

What's in your playlist right now?
I currently have Post Malone's new album on my playlist, and it has been on repeat since it was released! I also have Halsey, Krewella, Khalid, Paulo Londra, and Yuna in my playlist and they are my go-to artists for when I need that "confidence" boost.