Sub Menu Toggle
Cristina Raya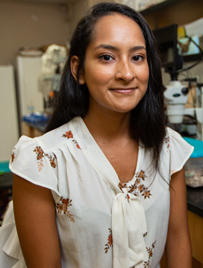 Name: Cristina Raya                 
Age: 21
Major: Biology
College/Department: College of Sciences
Hometown: Edinburg, TX
Why UTRGV?
I chose to attend UTRGV, because it is a rising, affordable school that offered many opportunities, and I also wanted to stay close to home during my undergraduate studies. In addition, in college, I knew I was going to join at least one student activity club and a research lab so I could find volunteering and professional development opportunities that would allow me to give back to my community. 
What made you decide on your current major?
The world around me has always intrigued me and science courses had always been my favorite, so when it was time to declare my major, I knew biology was the way to go. I feel like that was the best decision I made. In fact, I feel like I appreciate and like biology more today than I did when I began my college career.
What do you like most about UTRGV?
What I like the most about UTRGV is the opportunity it gives the students to succeed. I have had professors who have done nothing but strived for us students to succeed in their course and that is something I really like because it helps first-generation students, like me, feel encouraged. Today, I am also part of a lab that has allowed me to make various achievements and make great memories, the Kariyat lab.  In this lab, I found an opportunity to expand from my initial research interest and this has, in turn, opened many doors for me. More importantly, I was able to find a lab with a great mentor and fellow research students who are both a great lab team to work with and a great group of people to relax with. 
What are some of your favorite study spots on campus?
I find the outdoors to be very soothing.  My favorite spot to go study on campus is the tables right outside the new science building. I found that sitting out in the tables helps me feel at ease when I have a hefty amount of studying to do. What I value the most about this spot is that whenever I need to take a break from reading or writing, I can easily look up and appreciate the birds, insects and plants around me.
What does being a Vaquero mean to you?
Being a vaquero instills pride in me because the university is in my hometown. I am proud to say that I am a Vaquero because that means I attend a university that gives back to the community I grew up in through its many organizations and events they host.
What opportunities has UTRGV helped you find throughout your community?
UTRGV allowed me to find my true passion: Biology research. I am the first person in my family to attend college, so I was unaware of research going into college. Thanks to fellow classmates, club members and coworkers, I was able to find out about research opportunities. Later, as a result of my outreach to the people who were around me in these environments, I was able to join a lab that has allowed me to become a well – rounded student. The experience I have gained in this lab has helped me become a better scientist. The guidance my mentor and the graduate students in the lab have given me has allowed me to accomplish what I would have expected to accomplish in graduate college during my undergraduate studies. Accomplishments I have received as a result of this research and guidance within this past year include a grant award, a poster presentation award, a peer-reviewed journal publication, attendance to three poster presentations and skills I use in this insect-ecology lab.   
What are a few of your favorite books?
"Little House in the Big Woods" by Laura Ingalls Wilder - This is one of my favorite books, because it was the first chapter book I read and the author's vivid descriptions allowed 8-year-old me to feel like I was experiencing what the character in the book was. The book impacted how I perceived books with no words.
"A Series of Unfortunate Events" (series) by Lemony Snicket - I grew up reading this series of books and often had to pace myself so I wouldn't go through the books too fast. This is my favorite book series because it allowed me to value how much better books are when compared to movies based on the book. 
"End of Watch" by Stephen King - I find that reading Stephen King books are such a thrill. They are full of mystery and suspense.
What's in your playlist right now?
My favorite types of music are pop and rock and my current playlist contains artists like 2CELLOS, The Beatles, Shakira and My Chemical Romance.