Sub Menu Toggle
Criselda Garcia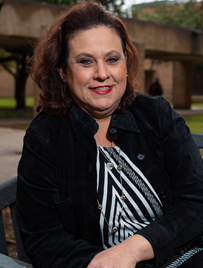 Name: Criselda Garcia
Age: 52
Major: Master's in Health Science with a concentration in Health Care Administration
College: College of Health Affairs
Hometown: San Juan, Texas
High School: PSJA High School 
Why UTRGV?
After I earned two associate degrees from South Texas College, I transferred to UTRGV because it was close by, generally cheaper as opposed to other four-year universities, and to complete my degree that I had started in the 1980s. Following my oldest son's honorable discharged from the U.S. Navy and my daughter's graduation from STC, we all made the leap together and enrolled at legacy institution UTPA in the spring semester of 2014. My daughter and I participated in the final UTPA graduation ceremony in the summer of 2015, and my son and I will be graduating together in the fall of 2019.  

What made you decide on your current major?
Working with underprivileged youth has always been a passion of mine. I come from a family of impoverished field workers, so I know what it's like to have to overcome adversity. I seek employment in areas where I can make a difference in children's lives. 
What do you hope to achieve beyond completion of your major?
Overall, my goal is to continue working in the health services field. As a social worker, I pledged to be an advocate for any child in need. A degree in Health Care Administration can help me ascend to an administrative role where I can amend policies to better address the needs of underprivileged youth who may fall through the cracks of the system. 
What do you like most about UTRGV?
The location is the most alluring part. The University is easily accessible and no more than a 25-minute drive. Also, the indoor pool is great. I usually spend summers swimming in the lap pool, which is great for weight loss.

What does being a Vaquero mean to you?
To me, being a Vaquero is a signifier of Valley pride. In generations past, graduating high school and being literate were not a big deal. All that us Mexican Americans could strive to be were field workers who were paid unfair wages, forced to work long hours, and be treated badly by the people in charge. Being a Vaquero means that one can overcome adversity and earn an education regardless of where you started in life. No one can ever take away your education.  

What opportunities has UTRGV helped you find throughout your community?
As a member of the Social Workers Club on campus, I was able to visit the Texas Legislature to observe laws being passed affecting hospitals and how payments are done. We were required to complete a minimum of 25 hours of community service. We raised money for local foster care agencies, Child Protective Services, and the Rio Grande Valley Food Bank. As a social work major during my undergrad, the program required the completion of a minimum 480 hours of community service. I was able to complete 500 hours of community service at A World For Children Foster Care Agency where I shadowed case managers and was able to network.

What are a few of your favorite books?
My favorite novel is "Frankenstein" by Mary Shelley. The overarching theme of the book is that every action has consequences. That is a very important lesson for everyone to learn. My second favorite book is "The Picture of Dorian Gray" by Oscar Wilde. It is so eloquently written and clever. The book teaches people that beauty is truly only skin deep. Both novels teach readers important life lessons. 

What's in your playlist right now?
I am always playing country music. Country artists like Chris Young, Kane Brown and Luke Combs are always included in my playlist.