Sub Menu Toggle
Vicente Martinez, Jr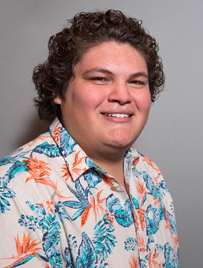 Name: Vicente Martinez, Jr.
Age: 22
Major: Accounting
Hometown: Brownsville 
Why UTRGV?
Aside from the tuition being a factor, I loved the student to teacher ratio. Here at UTRGV, you're more than just a number. The institution cares about each and every student. I've had professors who have gone above and beyond to accommodate and help students. 
What made you decide on your current major?
I was pursuing a marketing degree, but switched to accounting. I decided to major in accounting because I had an amazing professor, Lauran Schmid — she made me fall in love with the subject. Her passion for the subject and the way she taught made me passionate about it, too. I've always been good with numbers and I thought about giving it a chance. I was a double major at one point, but stuck with accounting because of the job demand. 
What are your plans after graduation?
I plan to relax and think about what is the next journey I am going to embark on. There are many things I would like to do, such as travel the world, try new things and find myself - as cliché as that sounds. I genuinely want to create a change in this world, I am not sure when it's going to happen or how, but I am going to create change no matter how small or big. 
What are you involved in on and off campus?
I've been involved in multiple organizations in and outside the university. The first organization I became a part of helped me grow as a person. Circle K International is a fellowship and leadership orientation organization that helped me gain skills that I apply in my everyday life, and I was able to meet amazing people 
What is your biggest accomplishment to date?
Where I come from, many people don't go to a university or even graduate high school. Some of them go down the wrong paths and aren't able to get out. I had temptations along the road, but I kept my head high and I continued to pursue my degree. They are many friends I lost, but at the end of the day I am able to say I graduated with my bachelor's degree in Accounting. I am the first one in my family to get a degree in higher education, but I broke the cycle. 
What advice do you have for future students?
Being involved in the university opened many doors and it helped me grow. Many people just come to class and leave. Since I was involved, I was able to meet people from all over the Valley and even the world. It's rewarding when you look back at all the things you were able to achieve and the long-lasting friends you created. You can join organizations that pertain to your major on a social level. The point is to meet new people, explore new ideas and create a better future for yourself and the community.