Sub Menu Toggle
Silver Salas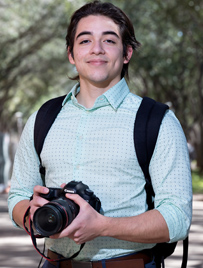 Name: Silver Ray Salas
Age: 22
Major: Criminal Justice
Hometown: Mission, TX 
Why UTRGV?
The main reason I chose UTRGV was affordability. Since scholarships would only be covering part of my tuition, I would be paying for my own education. The other reason was my grandfather because I was his provider for about four years and I was the only one who was able to continue to care for him at the time, so I chose to stay. It was a tough decision that had to be made because I had other plans, but UTRGV allowed me to stay close to home without any repercussions. 
What made you decide on your current major?
I changed my major about four times before finally realizing what I was destined to do. It was after a conversation I had with my uncle about his job as an investigator when I realized my potential. I enjoy taking photos, and he explained to me that there are positions in which I can take photos as an investigator. Every detail of the job that he described sparked my interest. After more research, I decided to continue into the criminal Justice field where I would be able to do what I love. 
What are your plans after graduation?
After obtaining my bachelors in criminal justice I plan to continue my photography career by enlisting in the United States Air Force and becoming a photojournalist. This will allow me to pursue my dream of becoming a photographer and travel without spending so much money. This will also give me experience in my field of study which I plan to continue as an investigator taking photos. 
What are you involved in on and off campus?
I am involved in a plethora of activities mostly off of campus. I have three jobs that I keep up with as much as possible including my job at UTRGV. I am the University Marketing and Communication's student photographer. I cover a lot of events, promotions and photoshoots that are associated with UTRGV. I also take photos for weddings, events and other photoshoots. 
What is your biggest accomplishment to date?
My biggest accomplishment is not any trophy or physical awards I have received, it is that that I found my passion for photography. I'm blessed to have received a job opportunity through the school in which I attend and to be able to do something that I truly love and enjoy. It has opened my eyes to the world around me and humbled me in many ways. 
What advice do you have for future students?
I would tell any incoming student to be positive despite the circumstances and to say yes. Say yes to everything you don't want to do because you are too afraid of the outcome or too afraid to fail. Failure happens to the best of us, but when you fail, you learn things you may not have learned because you were too afraid to try.