Sub Menu Toggle
Rose-Emmeline Alce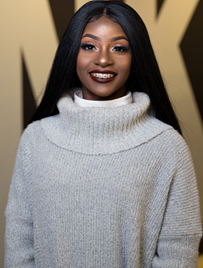 Name: Rose-Emmeline Alce
Age: 21
Major: Mass Communications, Public Relations
Hometown: Douglasville, Georgia
Why UTRGV?
There are a few reasons why I chose to attend UTRGV, two mainly being because of their inexpensive tuition and staying closer to my immediate family. I initially wanted to be in their nursing program. Now that I've changed majors, I really appreciate their Liberal Arts teachers' dedication. There aren't many universities in the Valley that focus on Public Relations and offers it as an affordable bachelors program, so this is a real gem. 
What made you decide on your current major?
I'm a living witness of having an RN who works 12-hour shifts, five days a week as my mother. Carrying the responsibility of someone's life is one reason why I switched majors. Not only are you helping them with their physical pains, but are also their friend and ready ear—there to comfort their own, along with their family and friends emotional anxieties. My personality is that of a social butterfly, and a few people have told me that I have unique a way of speaking and attaining people's attention. I was advised to research into Mass Communications because of my personality, and immediately fell in love with PR knowing it was meant for me. Since then, I've never once regretted changing majors and love the field I'm building my career in.
What are your plans after graduation?
After graduation, I plan to spend more time with my family. Traveling is at the top of my bucket list, so I'll do that with them and, of course, on my own. Cooking is one of my passions, so I plan to reboot my mom's catering business and hopefully expand it into a restaurant. One of my long-term goals is to own a PR firm here in the Valley. My mindset is more entrepreneurial, so in the future I want to invest in more business ventures such as house flipping—which is also one of interests thanks to HGTV and their amazing ideas on house décor—and so many more opportunities as they present themselves.  
What are you involved in on and off campus?
I'm currently getting into PRSSA (Public Relations Student Society of America), and have been modeling a bit on my free time. I'm very active in church as well. 
What is your biggest accomplishment to date?
My biggest accomplishment is that I'm scheduled to graduate next semester. I didn't pay too much attention to my timing in school only to avoid that stress, so it's exciting to know God has blessed me with that in my near future. 
What advice do you have for future students?
In everything you do, do it all for the glory of God. He'll see your recognition of Him in your life, and will pour blessing upon blessing on you—blessings you couldn't even dream of. He is the one that I give all the praise of my accomplishments to. Have fear for God, and He will take you through college. Trust me.