Sub Menu Toggle
Ilse Villarreal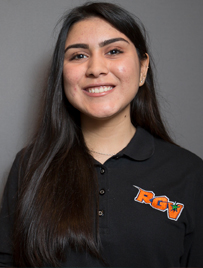 Name: Ilse Villarreal
Age: 21
Major: Business Management
Hometown: Brownsville 
Why UTRGV?
UTRGV was the best option for me. I wanted to stay close to home and still be able to get an unforgettable college experience. So far, UTRGV has given me that. What I like the most about UTRGV is that I get to experience the diversity we have on both campuses. Working at the University's office of Global Engagements has allowed me to get to know people from over 67 countries around the world.  
What made you decide on your current major? 
My high school business teacher motivated me to pursue a career in business management. He was a daily reminder of the benefits management brings to endorsing my leadership skills. I grew to learn and love every aspect of business management. 
What are your plans after graduation?
After graduation, I plan on continuing my education at the graduate level. My main goal will be to obtain a full-time position in the Human Resources field. I plan to develop more skills and gather experience and knowledge in order to advance in the workplace. 
What are you involved in on and off campus?
I am a Senator for the School of Business of the UTRGV Student Government Association. I am also a part of the Student Employment Initiative, with a position as a student employee at the Department of International Admissions and Student Services. When I find myself spare time, I also contribute to the community by volunteering at my local church. 
What is your biggest accomplishment to date?
My biggest professional accomplishment would be being one of the first members of my family to attend college. In addition, out of the five semesters I have attended UTRGV, I have achieved President's List for one semester and Dean's List for three semesters. My biggest personal accomplishment would be that despite any obstacle, I have been able to continue in school and to provide for myself thanks to the job opportunity UTRGV has given me. Being a full-time student and having a job is not easy, but when you have no other choice you learn to value and appreciate everything that you work for. 
What advice do you have for future students? 
Advice I would give future students is to value and take advantage of what you have. If you have time, use it wisely. If you have the knowledge, share it and if you have the means, take advantage. Always value and make more of what you have.