Sub Menu Toggle
Ana Sofia Rodriguez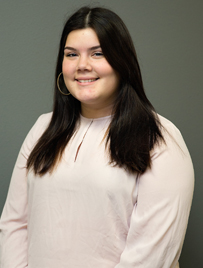 Name: Ana Sofia Rodriguez Nunez
Age: 21
Major: Theatre; Performance track
Hometown: McAllen, TX 
Why UTRGV?
I decided to attend UTRGV because of the financial aid opportunity I received and because of the opportunity to study surrounded by my culture. 
What made you decide on your current major?
It was during 5th grade ELA class that I fell in love with reading scripts and entering middle school I became involved with the theatre program. I continued during high school and I knew this art is what I wanted to study and learn more about. I am in love with storytelling and this is my medium. 
What are your plans after graduation?
I am looking forward to the job hunt and I hope to one day own my own theatre company and school. 
What are you involved in on and off campus?
Besides being a full time student, I am a part time student employee at URec. I am a member of Alpha Psi Omega, a national collegiate theatre honor society, and vice president of Latino Theatre Initiatives (LTI). LTI is a student organization dedicated to bringing more Latino theater to the Valley and engages the unique Mexican-American culture found here. We have recently toured Crawling with Monsters Now about the drug and gang violence in Northern Mexico. We have taken this to places like the Houston Fringe Festival, The New Orleans Infringe Festival, and cities including San Diego, New York City and Chicago. 
What is your biggest accomplishment to date?
Balancing workloads has always been a challenge for me but I have learned how to manage my time with my interests. I am most proud of my ability to be involved in all aspects of the theatre dept. and taking on projects on and offstage/in front and behind the camera, all while keeping up with classes and work. 
What advice do you have for future students?
Don't be afraid of exploring and getting out of your comfort zone when it comes to your academic and personal goals. It is important to make an effort to stay positive and put out into the world only what you want to get back.