Sub Menu Toggle
Adriana Gutierrez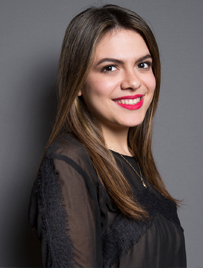 Name: Adriana Cecilia Gutiérrez Treviño
Age: 21
Major: Communication and a minor in business administration
Hometown: I was born in Matamoros, Tamaulipas. I graduated from Valley Christian High School in Brownsville, Texas. 
Why UTRGV?
UTRGV is like a second home to me. I love the campus, the people, the professors and the many events we have. I love how being brand new allows us to create so much, where at other universities they might already come with a rulebook. I love how UTRGV embraces Hispanic culture and how much it celebrates it; it keeps me close to home. 
What made you decide on your current major?
I was originally planning on moving to Monterrey or Mexico City to pursue a career in acting. Before taking that step, I spoke with one of my mentors who already had a career in acting and she recommended I get a communications degree first. Even though I wasn't too sure at first, I enrolled and soon realized that communications fit me like a glove. 
What are your plans after graduation?
After graduation I want to take a winter break with my loved ones, just before my OPT visa kicks in. I want to work for the duration of my visa, gain experience and use my savings to enroll in graduate school.
What are you involved in on and off campus?
 I worked for legacy university, UTB's newspaper The Collegian as their online editor. For the past year and a half, I've been part of UTRGV Street Team under the Public Relations department. In previous semesters, I was very involved with the International Student Organization where I got to meet many friends. We fundraised for a semester to do an end-of-the-semester trip to Mount Vermont, Texas. This summer I participated in a mini-mester at Mexico City for intercultural communication. We got to study and visit the most iconic places of Mexico City. Last semester, a friend and I founded "The F Word," an organization that raises awareness about feminism and sustainable fashion.
What is your biggest accomplishment to date?
I couldn't place an accomplishment above another. I equally value each and every one of them. They were all hard work and involved so many people. However, there are two that I consider stepping stones in my life. When I saw my first column posted in The Collegian I can compare it to the same feeling I got when I stepped on Italian soil for the first time; I just couldn't believe it. Having The F Word listed on V-Link made all the hard work and crazy ideas be official and take shape in our eyes; it was wonderful.  
What advice do you have for future students?
My advice for future students is to think positively. It's not what you say, but how you say it. To me, small yet powerful affirmations go a long way. They train your mind to always see the good side in every situation, which will be beneficial in the future.