Sub Menu Toggle
Stephanie Segura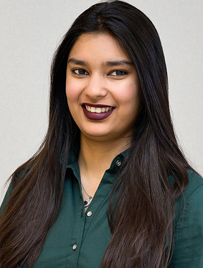 Name: Stephanie Segura   
Age: 21 
Major: Business Marketing  
Hometown: Brownsville   
Why UTRGV? 
I chose to attend UTRGV because I get to stay in the Valley and have the opportunity to interact and learn from different kinds of students, professors, faculty and staff. Here, I get to be away, but close enough to home since family is something that I value a lot. UTRGV is also a place where, compared to other universities, the school population is about 90 percent Hispanic, therefore keeping the Hispanic culture and values alive. In addition, UTRGV provides a great university experience for anyone who seeks affordable higher education. 


What made you decide on your current major?  
Ever since I can remember I have always wanted to be a business major, yet deciding what kind of business pathway I wanted to take was somewhat challenging. When I first entered college I enrolled as a business administration student, but after attending the Vaquero Roundup for entering freshmen, I decided to change my major to marketing. I came to this decision because, to me, marketing is the field within business where you are able to be more creative and it is always changing, which appeals to me.  
What are your plans after graduation? 
After obtaining my bachelor's degree, I am planning on seeking an MBA. For many years, my ultimate career goal has been to work for Google. However, immediately after graduating, my goals also include traveling a lot, going to new places to sightsee and meeting new people – that is something I really enjoy doing. I also want to give back to my mom in every way that I can in return for all the sacrifices she's made as a single parent while also being able to be an amazing mom and role model for my sisters and me. 
What are you involved in on and off campus? 
I am involved in the National Society for Leadership and Success on campus, which has given me the opportunity to enhance my leadership skills. I also work for the Student Involvement Department as a reservations team leader.  Working under this department has definitely been the best experience I could have asked for since it has allowed me to grow as a person and professionally. Every single individual I work with is to be admired in his or her own way.     
What is your biggest accomplishment to date? 
I have many accomplishments that I am very proud of. I am a first-generation college student and I have been part of the university's Dean's List since 2014. I've also been able to pay for my education all on my own. In addition, I'm proud of my promotion to team leader for the student involvement reservations team. All these accomplishments have taken a lot of energy, hard work, dedication and perseverance.      
What advice do you have for future students?  
My advice for future students would be to always have a positive attitude, manage your time wisely, attend every class, stay organized, but, most importantly, be determined.