Sub Menu Toggle
Jesus Martinez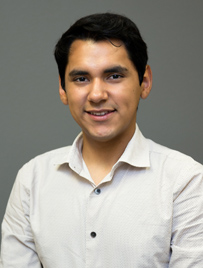 Jesus Martinez
Age: 19
Major: Music Education
Hometown: Alamo 
Why UTRGV?
During my final year of high school, I considered UTRGV a top contender among the list of schools I aspired to attend. Considering its proximity to home and my familiarity with the music program, I saw it as the best fit for me to pursue my respective degree. Notably, the university invested in my pursuit of a higher education, awarding me grants, thus relieving me of financial burdens. I am happy I made the choice to remain close to home and become part of the many programs our School of Music offers. 
What made you decide on your current major?
I have always been very passionate about music. Music has been a very motivational and influential subject in my life. My devotion to music does not compare to any other and has driven me to pursue a music degree. I long to further my progress as a musician and to genuinely serve our community as a music educator. The subject has impacted my being and my pursuit of success; I would like to give other students that same experience. 
 What are your plans after graduation?
Once I have obtained my degree, I plan to be highly committed as a music educator in one of our public schools here in the Rio Grande Valley. Though I have not completely assured myself yet, I plan to eventually enter a graduate program and receive a master's degree in composition. 
What are you involved in on and off campus?
In the past two years that I have attended UTRGV, I have been heavily involved in many musical ensembles such as the Pep Band, the UTRGV Wind Ensemble, the UTRGV Percussion Ensemble, and the UTRGV Composition Studio. Aside from these organizations, I have prepared and performed several pieces with other music students on campus in an independent collaborative effort. I have also consulted, assisted and helped teach in the PSJA and Edinburg public school districts.   
What is your biggest accomplishment to date?
As an incoming third-year student, I have had many memorable achievements. I was a recipient of the Engaged Scholar Award, in which I was funded to compose a major and ordinary compositional work. I was also a winner of the UTRGV Concerto Competition last fall, which granted me the opportunity to perform with the UTRGV Symphony as a soloist this upcoming fall. 
What advice do you have for future students?
Although one mainly focuses on their own achievements, it is important to remember that there is a long, weary, and overwhelming road on the path to success. Every honor and recognition was never given, it was earned. So, I advise you to embrace your opportunities and to accept your mistakes, not in a form of absolute defeat, but as a personal assessment of your progress. Find knowledge in every trial and error, but never suppress your abilities in wake of a mistake. It is you and your work ethic, your willingness and perseverance that will eventually help you accomplish your goals.