Sub Menu Toggle
Isaiah Dorsey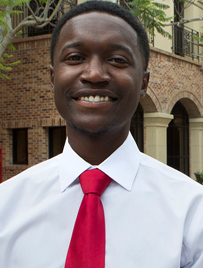 Name: Isaiah Dorsey
Age: 24
Major: Environmental Science
Hometown: Amarillo 
Why UTRGV?
During my senior year of high school in 2011 I was given a couple of options of colleges to choose from. My first option was to join the men's track & field team at Emporia State University in Kansas, and my second option was to move to the Rio Grande Valley with my family. After a year of decision making, I decided that UTB/TSC-UTRGV was the best option for me to continue my education. What I liked most about the university was the utilization of the coastal environment to educate students and local communities around us. Here, I was also able to get close to the faculty and staff and receive the assistance that I needed. 
What made you decide on your current major?
When I started my studies in 2012 I was a biology major. However, all it took was one environmental science course with Dr. Jude Benavides for me to realize that environmental science is what I wanted to study. Having been born and raised in Colorado, I grew up around an ever changing environment and it was fascinating to me to learn how and why the seasons change. With a bachelor's degree in environmental science, I now know how and why the seasons change and much more. 
What are your plans after graduation?
After I graduate in December 2017, I plan to travel back to Colorado with my family for some rest and relaxation. Next, I plan to seek gainful employment within my range of skillsets. My goal is to find employment with the Texas Commission of Environment Quality to protect our state's public health and natural resources. 
What are you involved in on and off campus?
This year I worked with Dr. Elizabeth Heise and Raquel Vasquez in the Office of Vice Provost for Faculty Affairs and Diversity, which focuses on faculty success and promotion of a healthy work environment.  I also volunteer my time in the Brownsville community. Most recently, I participated in the Point-In-Time Count, where I passed out goody bags and conducted surveys of Brownsville's homeless population. This summer, I am interning with Javier Gonzalez at the Birding and Nature Center on South Padre Island. 
What is your biggest accomplishment to date?
I am proud of my acceptance in the second annual Engaged Scholar Symposium of one of my three independent research studies that I began at the beginning of the spring 2017 semester. For this specific independent study based on the determination of water evaporation and moisture changes in soils amended with polyacrylamide, I received a Certificate of Sustainability from UTRGV's Chief Sustainability Officer Marianella Q. Franklin recognizing my contribution toward sustainable development education.    
What advice do you have for future students?
It does not matter what race or ethnicity you are; what matters is the kind of person you want to be. You have to put your foot down and decide that you are going to be that successful doctor, lawyer, teacher, coach, or student that you want to be, and you have to ignore anyone and everything that will try and stop you from achieving your goal.