Sub Menu Toggle
Iliana Fernandez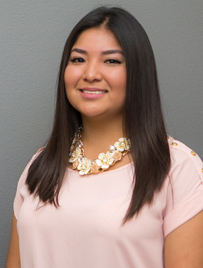 Name: Iliana Fernandez
Age: 21
Major: Social Work
Hometown: Alamo
Why UTRGV?
The importance of staying close to home and having all the support I could from my family was one of the primary reasons I chose to attend UTRGV. Also, having the opportunity to receive a one-year scholarship was an offer I couldn't reject. 
What made you decide on your current major?
Growing up I was always motivated to help others in need. In fact, not having enough facts as to what a social worker did I signed up for a prerequisite, and after taking an introductory class I was amazed, realizing it was such a broad profession. Always putting myself in God's hands, here I am two years later and a few months away to earning a Bachelor of Social Work.  
What are your plans after graduation?
After graduation, I hope to obtain a job that will offer me insight into the field of social work in order to continue my growth as a professional. I also plan on pursuing a master's degree and becoming a Licensed Clinical Social Worker (LCSW). Overall, the most important thing to me is to give something back to my parents, because they've done so much for me throughout my life. 
What are you involved in on and off campus?
I am currently employed with the Office of P-16 Outreach at UTRGV, where our team provides assistance to students and their families regarding different programs. I have been working as a program assistant for two years and I am absolutely grateful for such a great opportunity. Not only has this job provided me with experience related to my career interest, but it has helped me grow as an individual. I am also a member of the Social Work Student Association at UTRGV where giving back to the community is something I am very passionate about.  
What is your biggest accomplishment?
Despite having some rough times in my life, I have achieved many great accomplishments and reached many of my goals.  However, being the first in my family to go to college makes me extremely proud because it means I've broken a cycle. Needless to say, being the first in your family to graduate from college is a milestone that marks the start of a new chapter. 
What advice do you have for future students?
"Believe in yourself and all that you are. Know that there is something inside you that is greater than any obstacle." Christian D. Larson, New Thought leader, teacher and writer.