Sub Menu Toggle
Guillermo Vazquez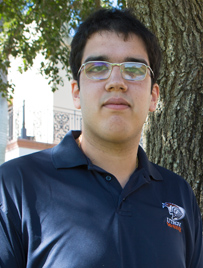 Name Guillermo Vazquez
Age: 19
Major: Physics and Computer Science
Hometown:  Asuncion, Paraguay 
Why UTRGV?
I was offered a chess scholarship and I thought it was a good opportunity for me. I enjoy the environment here at UTRGV and that many of the people here are bilingual in English and Spanish. 
What made you decide on your current major?
I always liked math since I was a kid and participated in Math Olympics when I was a middle school and high school student. Since I like math and programming, I thought I could do both with my current majors of physics and computer science. 
What are your plans after graduation?
I do not think much about the future so I have not decided yet. I have considered pursuing a master's degree. I also hope to become a chess grandmaster one day; right now I am an international master in chess, the second highest title attainable in chess. 
What are you involved in on and off campus?
Right now, I am a full-time student, a teaching assistant in the Department of Physics and one of eight members of UTRGV's chess team, so classes and chess take all my time. The chess team participates in four or five tournaments a semester. I have traveled with our team to Dallas, Houston, Cleveland, Greensboro, Chicago and New Orleans to compete. 
What is your biggest accomplishment to date?
My greatest accomplishment is making it onto the President's List ever since I started college. I am also proud of winning Paraguay's national chess championship in 2010. In addition, our chess team tied for first place at the 2015 Pan American Intercollegiate Team Chess Championship; won the 2016 Texas Team Championship; and its B team finished best among all B teams at the 2016 Texas Collegiate Super Finals. 
What advice do you have for future students?
During my academic life I learned not to leave assignments for the last minute, so that would be my top recommendation.