Sub Menu Toggle
Giovanna Paola Granados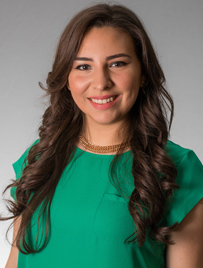 Name: Giovanna Paola Granados                                  
Age: 21
Major: Psychology
Hometown: Roma 
Why UTRGV?
UTRGV provides high quality education, a diverse population, wonderful student involvement experiences, and many academic opportunities for students. Also, UTRGV offered me what no other university could: a place where I can excel as a student, while still being close to home, which is important to me. As a resident of the RGV, I grew up with a great sense of pride in my community. Calling myself a UTRGV Vaquero and future graduate is only the first step in adding my contribution to cultivate, and empower our region. 
What made you decide on your current major?
I have always carried a great passion for helping people. I genuinely care for others, their emotions, and behaviors on how they respond to life and the problems that surround them. The field of psychology gives one the capability to understand how the mind works, both consciously and unconsciously, and insight into why people behave the way they do. After I receive my bachelor's degree in psychology I want to apply what I learned to improve myself and serve others.
 What are your plans after graduation?
I plan to pursue a master's degree. I would love to stay at UTRGV to further my involvement in benefiting my community and the university, and to remain close to my family and friends. Later, I plan to create projects and programs to better student education and enrich the fine arts in my hometown. 
What are you involved in on and off campus?
I am a member of UTRGV's National Society of Leadership and Success (NSLS), which has given me the opportunity to enhance my leadership skills and interpersonal communication. One of the most life changing and rewarding opportunities for me here at the university is working at the Student Involvement Department under Mentoring and Transition Services. My job as a teacher assistant and mentor in the Engaging Peers in College (E.P.I.C.) program has allowed me to take on a role of being a personal guide, supporter, and student model to first-year Vaqueros. 
What is your biggest accomplishment to date?
My biggest accomplishments are being inducted into NSLS, earning the esteemed recognition of being on the President's List, and being able to continue and expand my work under Student Involvement and the E.P.I.C. program. I also could not forget the recent achievement over my nomination and selection to UTRGV's Student Profile of Excellence. Like I tell my E.P.I.C. protégées, my good academic standing is due to hard work and dedication in my studies and frequent communication with professors. I credit my success as a mentor and personal supporter to my protégés to the desire and satisfaction I take in helping first-year students transition to university life to achieve the best college experience possible. 
What advice do you have for future students?
College is as easy and as fun as you want to make it. It'll get difficult sometimes and you might feel overwhelmed, but work hard, always be positive, and never give up pushing toward your goals. There will always be a new day to start fresh where you must have the strength to push through all obstacles with determination, make good and wise decisions, and, sooner than later, fulfill your dreams.