Sub Menu Toggle
Chelsea Lopez Loya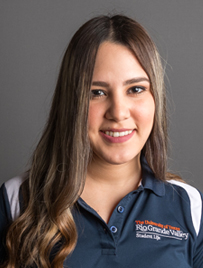 Name: Chelsea Lopez Loya
Age: 21
Major: Interdisciplinary Studies – Early Childhood-6th Bilingual Education
Hometown: Matamoros, Tamps. Mexico 
Why UTRGV?
UTRGV was always my first option in terms of my university education. It offers a wide range of majors including the one I am currently pursuing ­– Early Childhood-6th Grade Bilingual Education – and it provides great financial aid services. Being an international student, UTRGV allowed me to stay close to my relatives in the Rio Grande Valley. 
What made you decide on your current major?
Since a very young age my family always encouraged me to study a profession I could feel really passionate about. I believe that when it comes to children I have the qualities and necessary tools of a teacher. I did not only choose a career, but my vocation. Becoming a teacher builds character and it allows the students you teach to turn into successful grown-ups that learn to achieve their future goals. 
What are your plans after graduation?
After I graduate, my goal is to get a job in Texas at an independent school district. I also want to continue with my studies and one day earn a master's in bilingual education and hopefully a Ph.D. in educational leadership. Furthermore, I desire to be the principal of my own school. 
What are you involved in on and off campus?
I currently work as a UTRGV Student Food Pantry attendant on the Brownsville Campus. I provide food supplements to students who are in financial need. Other services the food pantry offers is volunteer hours, healthy workshops, and food drive donations. I am also a member of BESO (Bilingual Education Student Organization), which has made a positive impact in my pursuit of an education degree. I have also served as a volunteer in many different events, such as TABE (Texas Association for Bilingual Education) Conference and many more. 
What is your biggest accomplishment to date?
Making the President's List is an achievement I am really proud of. Also, getting into the bilingual education program at UTRGV is another one of my biggest accomplishments. Being in this program is a requirement for educational majors, and without it I would not be able to have my teaching certification. 
What advice do you have for future students?
In order to be a successful student, you must follow your aspirations, be persistent, and never give up. Throughout life you will be presented with infinite obstacles, but the key is to never let those overcome you. When feeling stressed out for an assignment or a project always look at the positive side of it. Also, remember that achieving a goal is tough but not impossible. In addition, I highly recommend students get involved in organizations. It will help them find out what kind of career or major they want to pursue. My advice for international students is simply that language is not a barrier, but a communication advantage.