Sub Menu Toggle
Bryan Ramos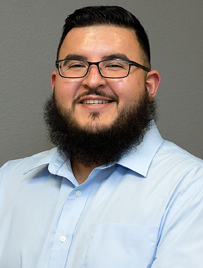 Name: Bryan Ramos
Age: 28
Major: Mass Communication – Print/Broadcast Journalism
Hometown: Edinburg 
Why UTRGV?
I'm at UTRGV because I'm trying to right my wrongs. When I graduated from high school in 2007, I entered UT Pan American with no plan in mind and not ready for the challenge college presented. I dropped out, began working and put my education on the back burner. Now, I've obtained my associate's degree from STC and am focused on earning my bachelor's from UTRGV and walking the stage in December 2017. A couple of my favorite things about the university are the people I've met and the growth UTRGV has experienced and will continue to see in the future. I also challenge anybody to find another university with better taquerias in the surrounding areas. 
What made you decide on your current major?
I decided to go down the journalism route because I've always had a passion for writing. I've also always loved sports and telling stories, so that's why I chose to pursue sports journalism. One of the biggest influences in my decision to pursue sports journalism has been one of my professors, Dr. Greg Selber. I remember playing high school football at Edinburg High and seeing him on the sidelines interviewing teammates of mine (I was never good enough to be interviewed, but that's a sob story for another day), and thinking "dang, what a cool job," and now I'm fortunate enough to call him a mentor. 
What are your plans after graduation?
I have never been the "plan" kind of guy but I would say my only goal after graduation is to write and create content that entertains and makes people laugh. 
What are you involved in on and off campus?
I currently work as the news editor for The Rider, the UTRGV student newspaper.  Prior to that, I worked as a reporter and spent time covering UTRGV sports for The Rider. I'm also a freelance sportswriter for The Sharyland Times and The Progress Times in the Mission and La Joya area. I have also volunteered with the Food Bank of the Rio Grande Valley. 
What is your biggest accomplishment to date?
I would say my biggest accomplishment to date is not quitting. There were times when it seemed like there was no light, when I felt like all odds were against me and on the verge of giving up. I take pride in knowing I've failed, gone back to the drawing board and never gave up on my dreams. 
What advice do you have for future students?
Advice I would give future students is to live in the moment and follow your dreams. Be present, ask questions, be eager to learn and make the best of every single day. I encourage students to get to know people around campus because everybody has a story and you'll come across some of the most interesting people you'll ever meet.