Sub Menu Toggle
Aleida G. Gonzalez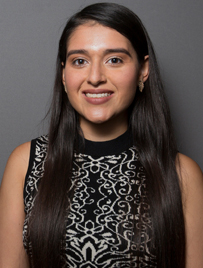 Name: Aleida G. Gonzalez
Age: 20
Major: Chemistry
Hometown: Brownsville 
Why UTRGV?
I am a first-generation college student, so UTRGV gave me the opportunity to be near home as I started in higher education. For me, family is essential to support me in every step I make. UTRGV has taught me about the possibilities available to me in the world and the greater opportunities you can obtain by working hard. In addition, I like the fact that the UTRGV faculty are welcoming and accessible to the students. 
What made you decide on your current major?
Chemistry was one of the subjects I enjoyed the most in high school and led me to want to become a certified chemistry teacher. Then, when I took General Chemistry Lab I – my first experience in a real lab – I decided that working in a lab would be my dream job.
What are your plans after graduation?
Recently, I've learned I like conducting chemical research, which has opened doors to a completely different world. However, I want to gain more research experience during my last semesters as an undergraduate student, which will better prepare me for admission into a graduate program. The mastery of such skills will eventually help me as I seek to obtain a Ph.D. in chemistry. Once I obtain my Ph.D., I want to be a professor and have my own research lab to motivate students to better understand chemistry and guide them to pursue higher education and a career in research.  
What are you involved in on and off campus?
In fall 2015, I received a recommendation to work as a General Chemistry I and II tutor, which allowed me to strengthen my academic knowledge and to help other students. The gratification of helping students comprehend and learn chemistry was invaluable. As a member since summer 2016 of the Minority Biomedical Research Support-Research Initiative for Scientific Enhancement (MBRS-RISE), I have gained experience and learned more about lab techniques. Through MBRS-RISE, I am able to participate in conferences and create networks for further studies. In addition, I've been able to contribute to the research of Dr. Arnulfo Mar by analyzing the biochemical properties in medicinal plants used in the treatment of diabetes. During summer 2017, I participated as an intern in the International Research Experience for students at the University of New Orleans in the University of Claude Bernard Lyon 1, France. 
What is your biggest accomplishment to date?
My tutor and research assistant experiences are my biggest accomplishments so far. Through those experiences, I have developed skills in communication, teamwork, academic writing, time management, and organization. I've also been able to accomplish two of my dreams, which are to travel and obtain experience in a foreign lab. 
What advice do you have for future students?
The best advice I can give you is to pursue your dreams and never think they are unreachable. Every person is different, but being organized and positive, and managing your time properly are essential to completing the majority of assignments in college.