Sub Menu Toggle
UTRGV ROTC couple 'Go Army' and pursue individual careers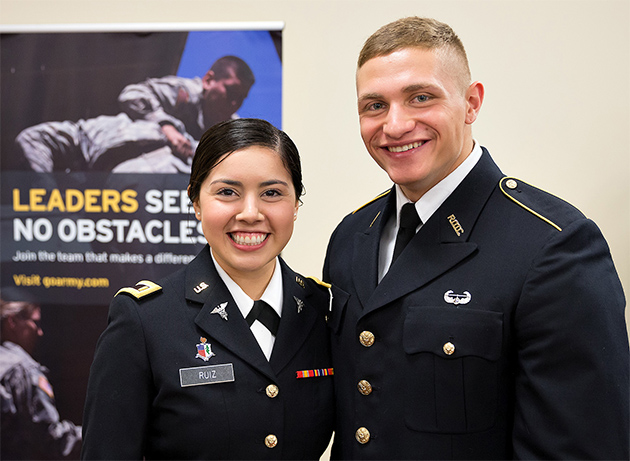 Army ROTC Cadet Edgardo Jules Ruiz graduates from UTRGV on Saturday, May 13, and his wife, Army 2nd Lt. Crystal De La Rosa Ruiz, is a recent graduate of UTRGV. They have five-year career goals and are hoping to be stationed together at Fort Bliss in El Paso in the near future. (UTRGV Photo by Paul Chouy)
By Cheryl Taylor
RIO GRANDE VALLEY, TEXAS – MAY 9, 2017 – When Army ROTC Cadet Edgardo Jules Ruiz graduates from The University of Texas Rio Grande Valley on Saturday, May 13, he already will be commissioned as a second lieutenant in the U.S. Army.
Ruiz joins 11 of his fellow UTRGV ROTC cadets in the ceremony, which formalizes entry into the U.S. Army Reserves or U.S Army active duty. At that ceremony, a special person generally pins on the newly commissioned second lieutenant's gold bars.
Ruiz hopes his wife, Army 2nd Lt. Crystal De La Rosa Ruiz, a UTRGV alum, will be that special person.
He also hopes she will be in the audience for his graduation. However, understanding military life, he said he will understand if she is unable to obtain leave from her duty station at Fort Bliss in El Paso.
They were high school sweethearts at Pharr-San Juan-Alamo High School, and got married in January 2016. Crystal, 21, and Edgardo, 22, are a modern-day military couple, each pursuing their individual careers.
Their career aspirations are vastly different, yet similar in that each can be achieved in the uniformed services. Crystal plans to attend medical school, and Edgardo plans to become a Protestant chaplain.
"We both know the road ahead may be harder than if we worked on the civilian side, but we support each other 100 percent," Edgardo said.
Both Edgardo and Crystal are grateful to their parents, and to each other, for support and encouragement.
"My parents instilled a drive in me to continue my education and work hard to accomplish any goals that I have set in my life," Crystal said. "My husband is by my side, day in and day out. He was there throughout my college experience, motivating and encouraging me to go above and beyond what I thought were my capabilities."
Crystal chose to enter the ROTC program with the goal of becoming an Army doctor. She already was receiving a variety of scholarships, so she did not need to take advantage of theROTC scholarship.
She got her commission and graduated from UTRGV in May 2016 with a bachelor's degree in biology. She then attended Medical Basic Officer Leadership Course at Fort Sam Houston in San Antonio, learning the ropes to become a medical service officer. Fort Bliss is her first permanent assignment.
"I am not surprised that Crystal majored in biology and is interested in a career in medicine," said Pedro Constante, UTRGV ROTC recruiting operations officer. "When she worked for me in the ROTC office, I saw her approach everything with detail, just as she did her military science classes. She is a sharp, dedicated young woman, and the Army is fortunate to have her among its young lieutenants."
For his part, Edgardo was encouraged by his sister to give ROTC a try. He applied, and received a four-year ROTC scholarship.
"Going from sports in high school to ROTC was a good transition, since there is a lot of teamwork involved," he said. "I chose to major in mass communication. I felt that it would help me in my future as an Army officer, and in the ministry."
Edgardo has been selected for active duty and assigned to serve as an engineer officer. After he graduates from UTRGV, he will go to Cadet Summer Training as Cadre at Fort Knox, Kentucky. Then, in August, he heads off to Engineer Basic Officer Leadership Course (BOLC) at Fort Leonard Wood, Missouri.
He and Crystal hope that, upon his completion of BOLC in January, he will receive orders to be stationed at Fort Bliss, and the couple can be reunited in El Paso. By then, they will be parents, as they recently found out Crystal is pregnant and due in November.
Crystal feels that, within five years, she will have received her Master of Science in Biochemistry, and by then will be serving as an Army physician assistant, or perhaps will have entered medical school.
Edgardo has a five-year goal, as well.
"I see myself finishing my Master of Divinity and, God willing, switching from being an engineer officer to the Chaplain Corps to serve as a Protestant pastor," he said.
Edgardo's plan includes attending seminary. After seminary, he would be sent to the U.S Army Chaplain Center and School at Fort Jackson, South Carolina.
"Although his branch right now is Engineering, Edgardo would be an even greater asset to the Army as a chaplain," Constante said. "He deeply cares for the wellbeing of his peers and looks out for benefits and opportunities for his junior cadets. He has all the traits of a good leader."
For more information about the UTRGV ROTC program, contact Constante at (956) 665-3601 or email him at pedro.constante@utrgv.edu.
MEDIA CONTACTS 

Cheryl.Taylor@UTRGV.edu
UTRGV Senior Writer / 956-882-8787
Marci.Caltabiano@UTRGV.edu
UTRGV Director of News and Internal Communications / 956-665-2742