Sub Menu Toggle
New UTRGV symposium targets teaching innovation, enhanced learning outcomes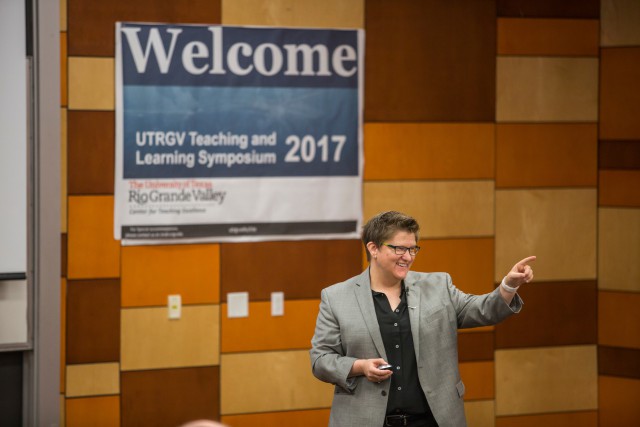 Dr. Julie Schell, a prominent expert in pedagogy and learning innovation and faculty member at UT Austin, where she directs Texas OnRamps and Strategic Initiatives at UT Austin's Office of Strategy and policy, gave the keynote address to faculty and staff attending UTRGV's first Teaching and Learning Symposium May 5. With a theme of "Meeting the Needs of 21st Century Learners," the symposium featured concurrent sessions by faculty addressing innovative teaching methods and pedagogy to improve student success. (UTRGV Photo by Silver Salas)
By Gail Fagan
EDINBURG, TEXAS – MAY 5, 2017 – More than 100 faculty and staff members from the Brownsville, Harlingen and Edinburg campuses of The University of Texas Rio Grande Valley participated in the first Teaching and Learning Symposium held May 5 at the Edinburg Campus.
With a theme of "Meeting the Needs of 21st Century Learners," the symposium focused on community-engaged teaching, experiential learning, linguistic and cultural diversity, resilience, and faculty development with a goal of enhancing student learning experiences and success.
Dr. Ala Qubbaj, vice provost for Faculty Affairs and Diversity, welcomed participants in the daylong symposium, hosted by the UTRGV Center for Teaching Excellence.
The symposium featured a luncheon keynote address titled "Project-Based Learning and Collaborative Engagement in Higher Education" by Dr. Julie Schell, a prominent expert in pedagogy and learning innovation focused on improved college access, affordability and success.
Schell, a clinical assistant professor in the College of Education at The University of Texas at Austin, is director of Texas OnRamps and Strategic Initiatives at UT Austin's Office of Strategy and Policy. OnRamps is a statewide dual enrollment and teacher professional development initiative that has grown from a student enrollment of 500 in 2012 to nearly 8,000 high school students in participating school districts statewide in 2016.
Schell described her failures and success in her project-based course, Technology and Innovation in Higher Education, which has proven results in achieving higher levels of student engagement and success.
Concurrent sessions, led by UTRGV faculty and administrators from multiple disciplines, addressed a wide range of topics, including the use of virtual learning experiences; community-engaged learning, teaching and research; courses and techniques to engage first-year and first-generation students; and culturally relevant resilience training in curriculum, among other topics.
Symposium sponsors and partners included:
B3 Institute
Center for Online Learning and Teaching Technology (COLTT)
College of Education and P-16 Integration
Community Engagement and Assessment
Department of Writing and Language Studies
Graduate College
Engaged Scholarship and Learning
International Programs and Partnerships
Office of Accreditation and Assessment
Office for Sustainability
Office of Vice Provost for Faculty Affairs and Diversity
Student Accessibility Services
Title V and Office of Student Success
University Library
The Center for Teaching Excellence, directed by Dr. Javier Cavazos, is an institutional support unit for the partnership of university knowledge and resources with those of the community, to enhance scholarship, research and teaching while preparing civic minded citizens, addressing critical societal issues and improving the long-term welfare of the community at a regional, statewide, national and international level.
Symposium Photo Gallery:
https://utrgv-umc.photoshelter.com/galleries/C0000WhQgtYBjMVI/G0000w36WpbM0StQ/20170505-CEP-Teaching-and-Learning-Symposium-EC-SS
Password: cepsymposium
MEDIA CONTACTS
Gail.Fagan@UTRGV.edu
Senior Writer / 956-665-7995

Marci.Caltabiano@UTRGV.edu
UTRGV Director of News and Internal Communications / 956-665-2742